HOLISTIC HORMONAL HEALTH

Ayurvedic Women's Wellness Immersion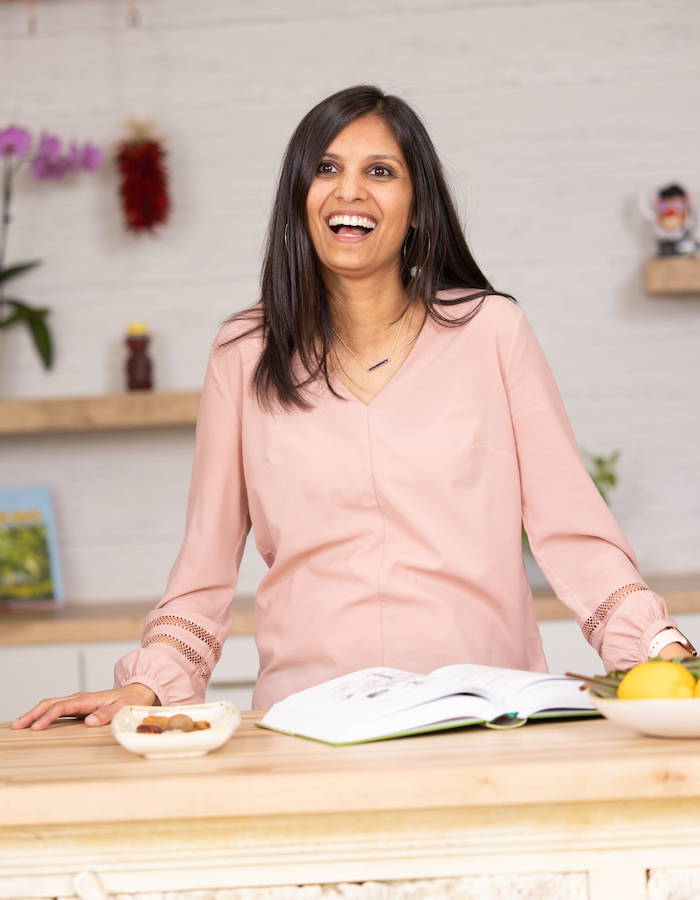 MAY 3 - MAY 27

LIVE ZOOM SESSIONS EVERY TUESDAY AND FRIDAY FROM 8:30 - 9:30AM MDT
Learn how to balance your hormones and so much more with OB/GYN and Ayurvedic Practitioner, Dr. Vrinda Devani

Ayurveda is the science of life - and life, just like the cosmos from which it originates, is governed by cycles. It's the highest goal of Ayurvedic practice to help us identify and work with these cycles. It's the root belief of Ayurveda that all wellness, wholeness, and wellbeing emerge from this dance of balance.
Millions of women over the ages have lent their insight to the study of Ayurveda - especially developing whole schools of knowledge that focus on the holistic health of the female-sexed body.
The female-sexed body is intimately tied to nature - even the heavenly body of the moon as it moves through the night sky has an effect on our physiological self. In coming to know these cycles, to understand their purpose and how they are most likely to affect us, the more we can do to become aware of, prepare for, and live into the highest expression of ourselves through our life cycles.
Western medicine and science has made huge strides in understanding the female-sexed body - taking what was once considered mystical occurrences and understanding the physiological processes involved. It's unfortunate that this same system has largely reduced these no-less-miraculous occurrences to mundane bodily reactions when they are imbued with the divine feminine (shakti) moving within and through all of us.
The host of this Women's Wellness immersion, Vrinda Devani, MD, CAP, RYT, is a board-certified Obstetrician and Gynecologist, and has spent her career combining the insights of western science with the tried-and-tested knowledge of Ayurveda.
This immersion, in community, we will open doors of understanding and self-knowledge that will allow us to build more harmonious relationships with our own bodies - so that we may come to better nurture and heal ourselves and each other.
DATES: MAY 3 - MAY 27

LIVE ZOOM SESSIONS EVERY TUESDAY AND FRIDAY FROM 8:30 - 9:30AM MDT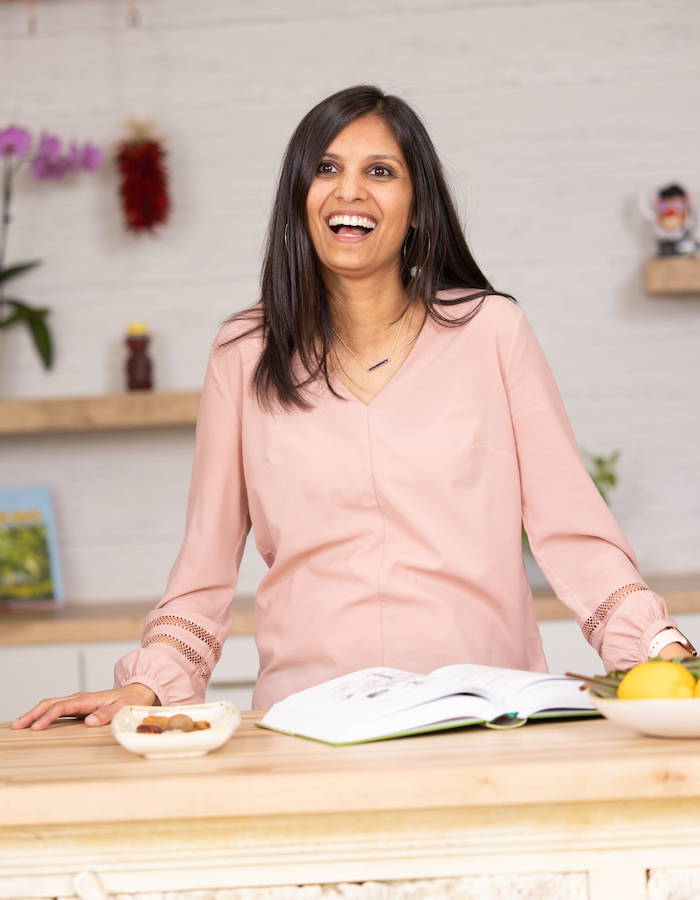 ---
GET TO KNOW YOUR INSTRUCTOR!
Enjoy a quick chat with OB/GYN and Ayurvedic Practitioner, Vrinda Devani, MD and learn about what motivates her when it comes to women's health.
WHAT WE WILL COVER IN THIS IMMERSION

Although we are all a mixture of masculine and feminine traits, the modern world has largely deprioritized those of the feminine. In this immersion we will be honoring the sacred feminine attributes of intuition, connection, and creation - embodying the freedom to create fearlessly.
We will explore what it means to live consciously as a female-sexed body in rhythm with our cycles. This immersion is about regaining and honoring the wisdom of our cycles by optimizing our body's functioning.

Here we will tackle some deeper knowledge on the hormones and metabolism - with a focus on how these biological processes work in relation to understanding the menstrual cycle, menopause, the thyroid, and so much more!
In Ayurveda we hold nutrition and cooking as one of the most important factors in maintaining our health and wellness. We will look at the concept of nourishment in Ayurveda and the connection to our hormones.
Prana, our life force, is directly tied to the breath. We will look at the science of the breath and how it relates to our hormones, testosterone, and cortisol production - an important part of all female-sexed bodies.

Here we will explore the sympathetic nervous system which aids in our rest and digestion - the important role relaxation plays in reducing cortisol and how it counteracts almost every hormone.
In Ayurveda we know that certain toxins (AMA) and estrogen dominance can lead to imbalance within our system. Through cleansing techniques we want to soothe and ground - rebalancing our system.
LEARN TOGETHER: LIVE CALLS AND COMMUNITY FORUM

Community
There will be a private Facebook group per immersion where you can join discussions, post questions, and get to know your instructors and fellow students a little better!
Video Lessons & Replays
Please note that all LIVE sessions are recorded and you will be given access to your own AyurLearn portal where you can access all the immersion sessions, recorded video lessons and supporting materials whenever you like.
Live Sessions
Join us in live zoom classes to deepen your experience and ask your specific questions to our team of experienced teachers and practitoners.
Questions?
Get answers to your questions during our live sessions or ask your questions through our community portal.

You are

curious about the Ayurvedic approach to the female-sexed body

, understanding these ancient learnings and insights alongside modern western medical practice and research - either to support yourself or someone else in their journey toward optimal health and wellness.
You are an

Ayurvedic Practitioner who wishes to deepen your understanding in the Ayurvedic approach

to the female-sexed body to better support your clients and community.
You

work in Health Care

and would like to explore the teachings and insights of Ayurveda to better support your clients and patients with supportive techniques that support mental, emotional, and physical wellbeing.
AyurPrana Medical Director
VRINDA DEVANI, MD, CAP, RYT
Vrinda's dedication to empowering women towards vibrant health and living shines through in her practice as a board-certified Obstetrician and Gynecologist, and as an Ayurvedic Practitioner. After studying under Vasant Lad, Vrinda followed this passion to Nepal, where she studied Ayurvedic women's health with Dr. Sarita Shrestha.
Vrinda believes in unfolding the human body's potential through a blend of complementary and allopathic medicine, and so her approach to healing is always extraordinarily well-rounded and compassionate.
If she's not speaking or writing for various prestigious audiences on the intricacies of women's health, you might find her in the middle of a flow, as Vrinda is also a lover (and certified instructor) of Ayuryoga.
AyurPrana Founder and Dean of Education
SNEHA RAICHADA MPT, CAP, E-RYT-200

Prior to becoming the Dean of Education at The Ayurvedic Institute, Sneha had a remarkable journey as an executive of a thriving hospitality business. Luckily for us, Sneha now focuses all her energy on developing the next generation of Ayurvedic Practitioners and providing thoughtful care for her clients.
While practicing as an Ayurvedic Practitioner, Sneha combines her early experience as a Physical Therapist with extensive classroom and clinical study under Vasant Lad in the US and India, Yoga Teacher Certification, and Reiki III Certification. At the core of Sneha's work is a powerful dedication to food as a vehicle for healing, nurturing, and bringing people together.
When she has a free moment, Sneha is most often found experimenting with fresh food ingredients, applying the deep wisdom of Ayurveda to all her delectable creations.
AyurYoga and Ayurveda Instructor

NISHITA SHAH, CAP, E-RYT-500, C-IAYT

Nishita is a passionate Ayurvedic practitioner, yoga teacher & trainer, and a certified yoga therapist. While studying at the Ayurvedic Institute (AI), Nishita had the great fortune to learn Ayuryoga with Vasant Lad, BAM&S, MASc, and received her 500-hr AyurYoga certification. Nishita now leads and develops the curriculum for all the Yoga Teacher Trainings at the Ayurvedic Institute for both the 200 & 300-hr programs. Prior to her studies at the Ayurvedic Institute, Nishita attended the University of Alabama at Birmingham where she received a Bachelor of Science in Psychology. Nishita loves cooking and her delicious recipes regularly find their way into our cleanses and onto our dinner tables!
HOLISTIC HORMONAL HEALTH
AYURVEDIC WOMEN'S WELLNESS IMMERSION
8 live classes with Q/A led by Vrinda Devani, MD. Sneha and Nishita along with other guest speakers will be joining throughout.

Access to private Facebook / Community groups to review materials, share ideas and ask your questions. Group will be moderated by AyurPrana practitioners and teachers.

Access to video content in the AyurLearn learning protal with replays available for 6 months.


Class Schedule for live sessions
May 03, 2022 | 8:30am MST
May 06, 2022 | 8:30am MST
May 10, 2022 | 8:30am MST
May 13, 2022 | 8:30am MST
May 17, 2022 | 8:30am MST
May 20, 2022 | 8:30am MST
May 24, 2022 | 8:30am MST
May 27, 2022 | 8:30am MST
Still not sure? Reach out to our care team with your questions. Email us at info@liveayurprana.com
Frequently Asked Questions

What is an AyurPrana immersion?

Our immersions deliver a virtual experience aimed at fostering transformation. We offer a combination of pre-recorded and live content from our esteemed and captivating speakers, practitioners, and teachers straight to you! We want as many people as possible to have access to this life-changing content. We make the content easily available for you, whether you are in the comfort of your home, at your favorite coffee shop, or on the beach.
Can I ask the instructor questions during the immersion?

Yes! The live component of any class is interactive. We have a state-of-the-art setup for the speaker to have a life-size view of the audience, so it is as if you are sitting together. There will be designated opportunities to ask questions you have related to the content. We also have a dedicated Facebook group where you can ask additional questions and get to know your immersion friends!
What if I have no background in medicine or Ayurveda? Do I need any background to understand the content in the immersion?

Our immersions are intentionally accessible for anyone - even those relatively new to Ayurveda. These particular marma immersions will be best enjoyed by someone with at least an introductory background in the science of Ayurveda. The speaker may become more technical, but we always bring it back to the basics. This immersion doesn't require a deep knowledge of anatomy and physiology - Dr. Susan Salvo will cover much of that in a lesson during this immersion.
How will I view the sessions?

For live sessions, we will utilize the Zoom platform. You will receive clear instructions on how to join. All you need is good internet access; a laptop, tablet, or phone with video and audio capabilities; and a fresh and open mind!
Recorded classes or the live replays will be accessed through the AyurLearn Portal. Instructions to access your AyurLearn Portal will be emailed to you shortly after purchase.
What if I can't join the during the live broadcast? Can I watch the sessions later?
Absolutely. You will have full access to the recorded sessions for at least 6 months after the live broadcast.
What is your refund and cancellation policy?

Immersions may be canceled up to 72 hours prior to the start date of the session. Please contact info@liveayurprana.com to submit a request for cancellation.

What if I am having technical problems during the live webinar?

You can reach us immediately by utilizing the chat feature in Zoom or emailing info@liveayurprana.com . We will be continuously checking these so that we can respond to you promptly.

Got questions? We'D love to get you answers!
Contact us at info@liveayurprana.com