AYURWELLNESS
Your Virtual Health Center + Ayurvedic Consultations
Book a session today!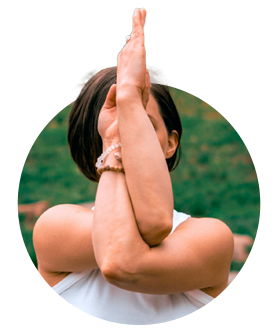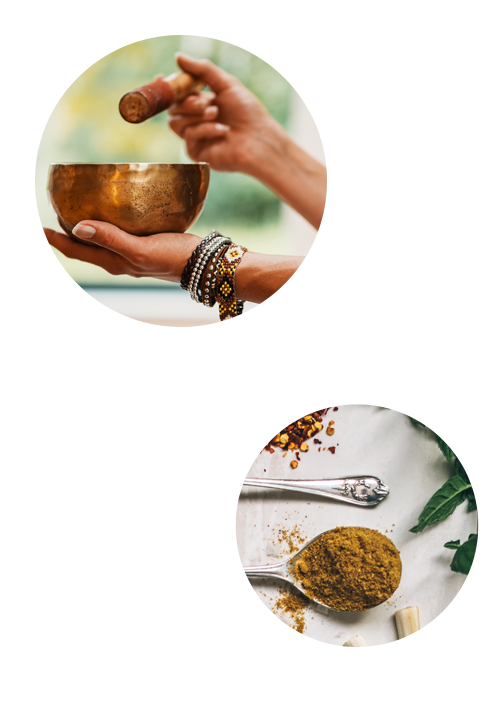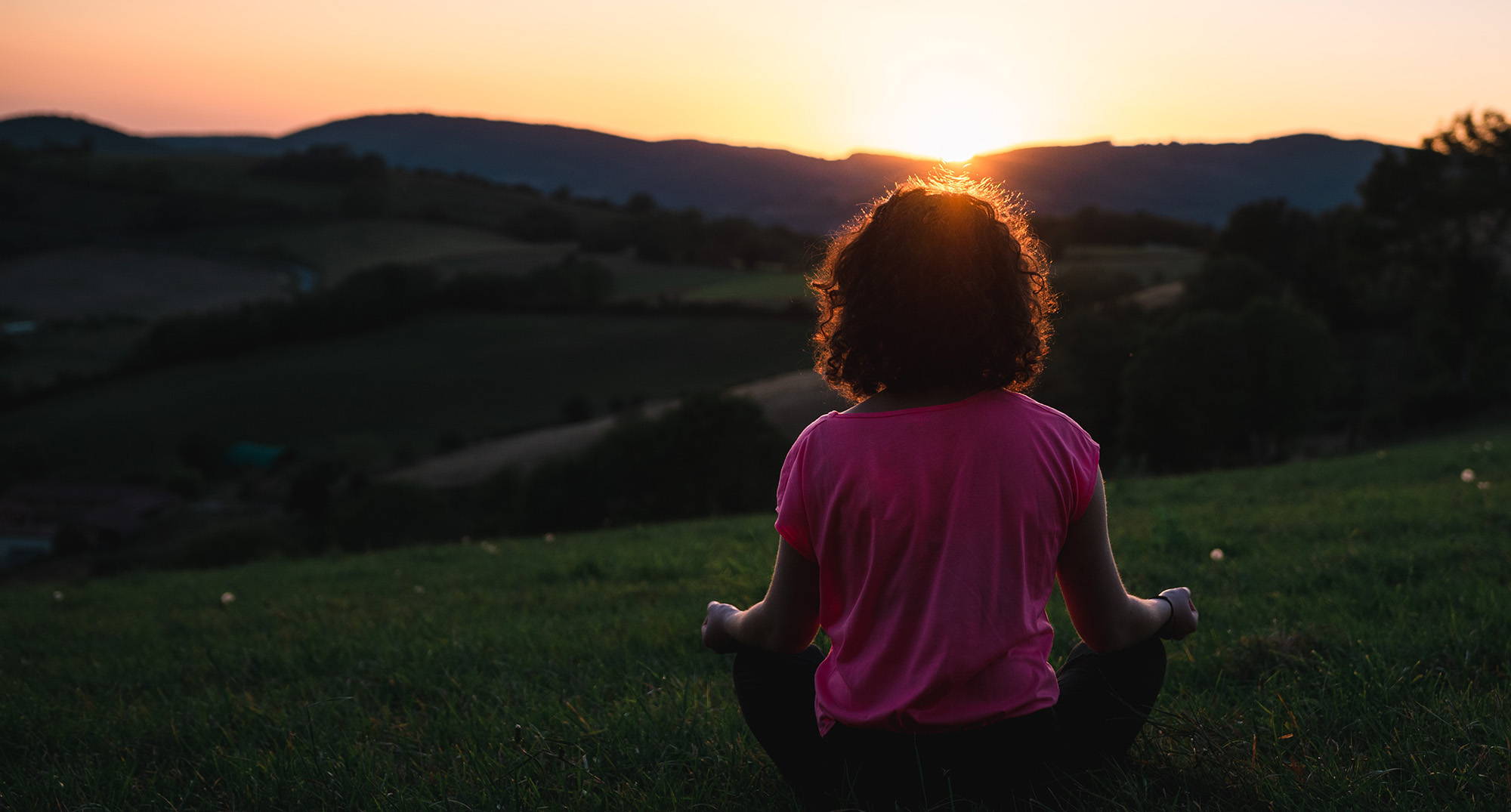 AYURWELLNESS
Your Virtual Health Center + Ayurvedic Consultations
Book a session today!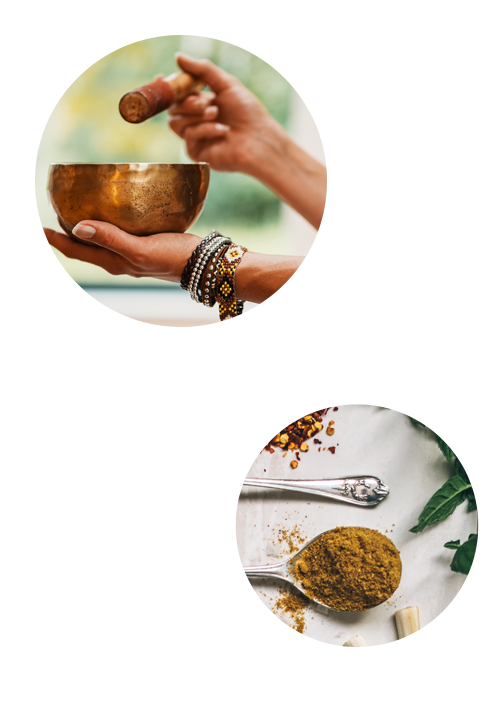 AYURWELLNESS
Your Virtual Health Center + Ayurvedic Consultations
Book a session today!
WHAT IS AYURPRANA HEALTH COACHING?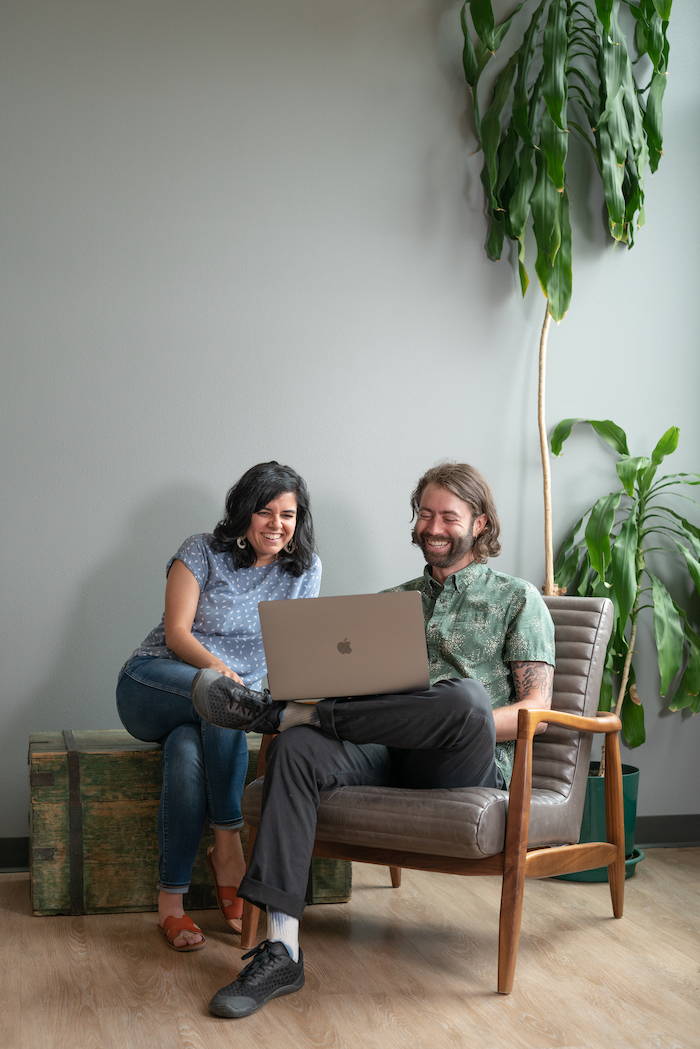 We are here to support your wellness goals. Sign up for an initial consultation with our highly trained team of Certified Ayurvedic Practitioners and learn how Ayurveda and our unique process can help you live vibrantly.

In your initial consultation:
You will spend 85 minutes with an experienced practitioner reviewing your health history, wellness goals, and personal health challenges.


You will receive a personalized Ayurvedic Assessment, including an explanation of elemental imbalances, your digestive fire, and your habits using our unique 7 Pillar system.

You will be presented with a wellness strategy and recieve education based on the 7 pillars to enable your wellness goals.

We draw upon many tools, including, yoga, diet, lifestyle, herbology, and much more!

After your session, you will receive a copy of all the items that we review during the session.

Our team is fully devoted to giving you the best Ayurvedic education, really diving at the root of your challenges using ancient and modern wisdom!

Our Health Coaches:
Our practitioners have completed a minimum of a 2-year full-time training program in Ayurveda and have seen many clients to gain the right experience to support you.

Each practitioner is well-versed in all aspects of health along with specific specialties. Our team works collaboratively so you have the braintrust of the entire team behind you!

We have a Vedic astrologer, yoga specialists, Ayurvedic mindfulness coach, and Ayurvedic diet specialists on our team if you choose to dive into speicalites in your follow-up sessions.
MEET YOUR HEALTH COACHES

SCROLL TO RIGHT AND LEFT TO MEET THE TEAM
SCHEDULE A COACHING SESSION IF:

you want to live vibrantly, have more energy, improve digestion and nutrition, reach your optimal weight, feel balanced with less stress. We want to support you in your own wellness goals in healing your body, mind, and spirit.

you want to learn more about how Ayurveda can support you in your personal wellness journey and health goals. Learn your unique optimal state and your current state of imbalance.


you want to access your bodies natural healing abilities and empower yourself through our unique approach of the 7 Pillars of Wellness.
FILL YOUR CUP - 7 PILLARS OF WELLNESS

We bring Ayurveda to you in a holistic and structured format with our 7 Pillars of Wellness appraoch. Our coaches will complete an assessment of your habits across these pillars and provide you with a step by step plan you can follow to help yourself begin to heal and live a more optimal life.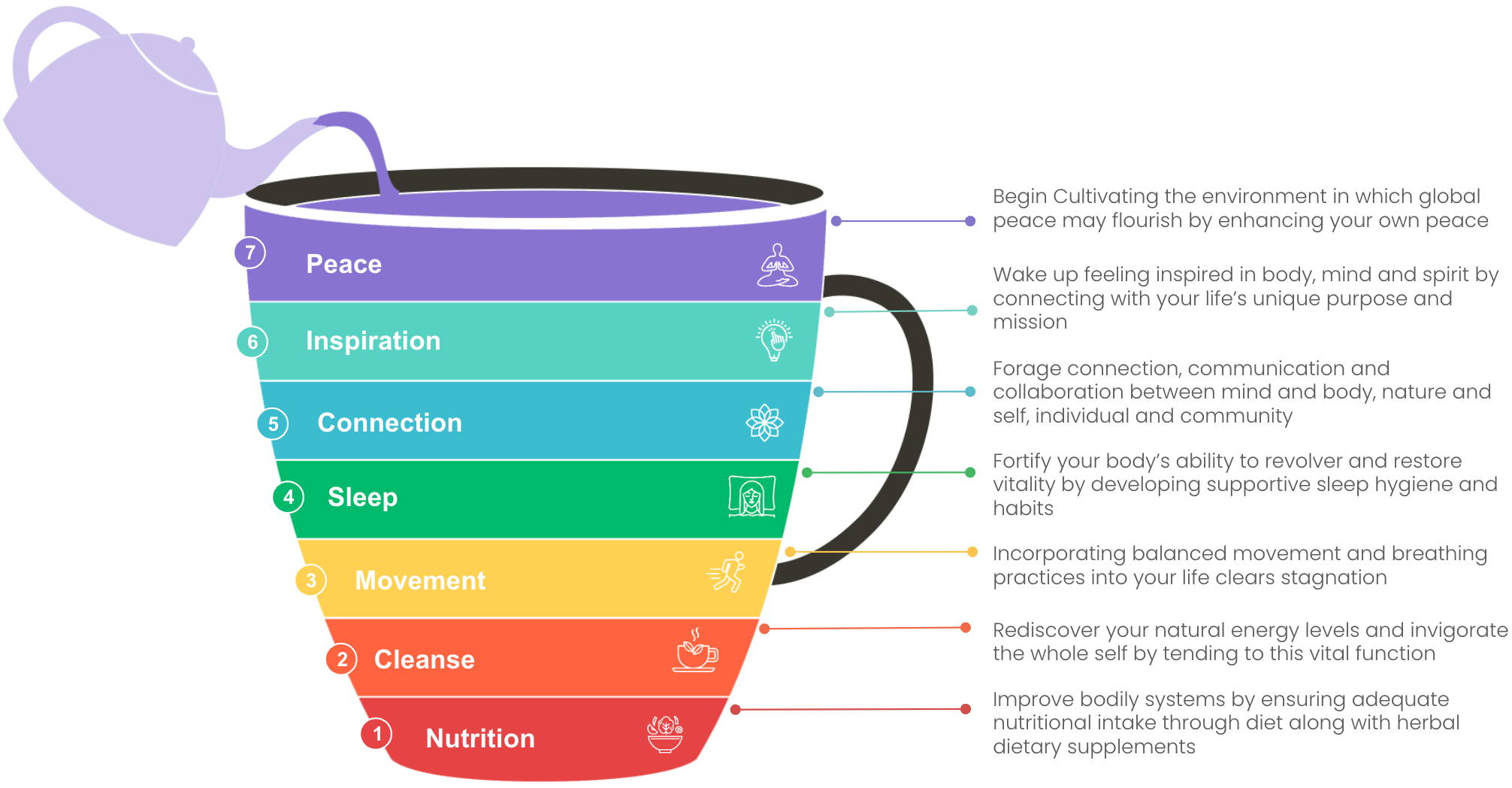 DISCOVER

Get back to feeling like your whole, vibrant self by getting to the root of your health mysteries with a comprehensive consultation and a care plan crafted specially for you.
IMMERSE

Integrate your new self-care regimen into your daily life, with the support of a practitioner. With the support of the global AyurPrana community and our optional classes + immersions
EMPOWER

Live the rest of your life empowered with the herbal protocols, lifestyle adjustments, Ayurvedic routines, and spiritual practices you need for longterm vitality
AYURPRANA AYURVEDIC COACHING SESSION

Initial 85 min Assessment - $179

85 min educational session with a Certified Ayurvedic Practitioner.

Complete Ayurvedic intake, including an assessment of our 7 Pillars of Wellness.

Full Ayurvedic assessment and review of your dosha, digestive fire, and supportive habits.

Detailed education plan for your optimal wellness.

Ability to follow up with your coach via our private app for 21 days. Continue this access with regularly scheduled follow ups.

Upon completion of the intake, add on specialty services and regular follow up sessions with your coach to monitor your progress and adjust your plan for optimal well being.
Still need help deciding which service is right for you? Want to check in regarding a particular symptom or treatment? Get in touch with our dedicated Care Team who can address any queries or concerns you may have and get you started on your healing journey! care@liveayurprana.com


If you are suffering from any mental health concerns or are diagnosed with or undergoing cancer treatment, please email us at: care@liveayurprana.com for further guidance.

OUR COACHES ARE CERTIFIED AYURVEDIC PRACTITIONERS (CAP)

AYUREVEDIC COACHES

Our AyurWellness coaches are certified by the National Ayurvedic Medical Association (NAMA) as Certified Ayurvedic Practioners (CAP). This category represents the Ayurvedic professional with full clinical training in disease pathology, as seen through the Ayurvedic model. These professionals also practice prevention and health promotion through the focus on diet and lifestyle. They must undergo a minimum of 1,500 hours of training.

YOGA COACHES

Our AyurYoga coaches are certified by Yoga Alliance as E-RYT 500. What do all the letters and numbers mean? An E-RYT 500 has completed 500 hours of training and also taught yoga for at least 2000 hours over 4 or more years. This is the highest certification that you can acheive with Yoga Alliance, the organization certifying the most yoga teachers and programs in the United States.

Connect with Dave Yoss or Nishita Shah
YOGA CONSULTATIONS (1-on-1)

Learn how yoga can support your physical, emotional, and mental wellbeing. Yoga has the potential to be deeply therapeutic, beyond a great physical workout. In this consultation, your AyurPrana yoga specialist will create a curated yoga routine.
The specialist bridges Ayurveda and yoga, as two sister sciences, drawing upon both yoga and breathwork (pranayama). Yoga poses and sequences are thoughtfully laced together in a way that will bring balance to you, no matter your experience with yoga or despite any physical limitations.

$129 for a 55-min private session.
Jyotisha Consultations with

SEBASTIAN URREA AD, RYT-200

A Jyotish (Vedic Astrology) reading includes a general overview of the major themes in your life as assessed in your astrological chart. We'll talk about your different strengths and weaknesses and ways of working with each. We can review major themes and time periods in your life and any shifts that may occur so that you can harness and optimize each time period.
These readings are intended to help you better understand who you are and the major forces at play in your life. They are trying to inspire you to live your best life. We can also focus around a specific topic that is relevant to you today as Jyotish can provide insight and clarity about something in your life that feels confusing or difficult.

Our approach to Jyotish is not about making predictions. They are about helping you better understand how your own tendencies and actions shape the course of your life, and how you can redirect that towards your life's mission.
$129 for a 55-minute private session.
Frequently Asked Questions

What is an AyurPrana immersion?

Our immersions deliver a virtual experience aimed at fostering transformation. We offer a combination of pre-recorded and live content from our esteemed and captivating speakers, practitioners, and teachers straight to you! We want as many people as possible to have access to this life-changing content. We make the content easily available for you, whether you are in the comfort of your home, at your favorite coffee shop, or on the beach.
Can I ask the instructor questions during the immersion?

Yes! The live component of any class is interactive. We have a state-of-the-art setup for the speaker to have a life-size view of the audience, so it is as if you are sitting together. There will be designated opportunities to ask questions you have related to the content. We also have a dedicated Facebook group where you can ask additional questions and get to know your immersion friends!
What if I have no background in medicine or Ayurveda? Do I need any background to understand the content in the immersion?

Our immersions are intentionally accessible for anyone - even those relatively new to Ayurveda. These particular marma immersions will be best enjoyed by someone with at least an introductory background in the science of Ayurveda. The speaker may become more technical, but we always bring it back to the basics. This immersion doesn't require a deep knowledge of anatomy and physiology - Dr. Susan Salvo will cover much of that in a lesson during this immersion.
How will I view the sessions?

For live sessions, we will utilize the Zoom platform. You will receive clear instructions on how to join. All you need is good internet access; a laptop, tablet, or phone with video and audio capabilities; and a fresh and open mind!  
Recorded classes or the live replays will be accessed through the AyurLearn Portal. Instructions to access your AyurLearn Portal will be emailed to you shortly after purchase.
What if I can't join the during the live broadcast? Can I watch the sessions later?
Absolutely. You will have full access to the recorded sessions for at least 6 months after the live broadcast.
What is your refund and cancellation policy?

Immersions may be canceled up to 72 hours prior to the start date of the session. Please contact info@liveayurprana.com to submit a request for cancellation.

What if I am having technical problems during the live webinar?

You can reach us immediately by utilizing the chat feature in Zoom or emailing info@liveayurprana.com . We will be continuously checking these so that we can respond to you promptly.

Got questions? We'D love to get you answers!
Contact us at info@liveayurprana.com
Frequently Asked Questions

Can I book with a Team Lead (Pranav, Vrinda, Sneha or Mitesh)?
Our Team Leads spend time ensuring quality of our consultations by meeting with practitioners and guiding consultations based on the queries and their expertise! Our team truly works collaboratively in this manner. Our leads are not currently available for individual Ayurvedic consultations due to this responsibility.
Do you offer in-person consultations?
Currently, all consultations are only virtual through AyurPrana. We make the consultation experience as personal and comfortable as possible. Although AyurPrana does not have any physical locations outside the United States, we will be transitioning to a new location in Asheville, North Carolina, in the summer of 2022! That being said, the Ayurvedic Institute has opened their student clinic, and offers in person consultations to the public! Feel free to contact them at (505) 291-9698 Ext. 131 or email clinic@ayurveda.com.
How can you do a consultation without being able to read the pulse?

Although the pulse is a beautiful method of clinical observation it is only one form of examination in the Ayurvedic tradition. There are many factors that are considered in an Ayuvedic consultation in addition to the pulse which our practitioners utilize, such as questioning, understanding genetic predisposition, mental emotional state, and especially observation of physiological characteristics (this is why uploading photos of the face, tongue, and meals is so useful for your practitioner) and much more!
Can I do a consultation over the phone?

Although our Ayurvedic consultations are the most supportive and personal when hosted through a video call, we do also provide consultations over the phone for individuals who prefer it. You will not have the same benefit of visual education as provided in our Zoom consultations, but will still cover the same information and receive recommendations as well.
Why do I have to fill out the paperwork?

Our paperwork includes basic terms of service, office policy, and other necessary legal paperwork. Similar to visiting any other provider, our practitioners appreciate basic background information. This information provides necessary details to your practitioner which in turn will directly correlate with the effectiveness in helping you . The more specifics you are able to provide, the more targeted your practitioner's insights will be.

What type of education will the practitioner provide?

Your practitioner will be able to provide education on a variety of dietary, lifestyle, breathwork, yoga, oral and topical herbal remedies! This includes a specialized herbal blend specific to you, supporting the concerns identified in your consultation.
I want the best practitioner! Who is the most experienced practitioner?

We know everyone wants the best practitioner. Our structure supports our practitioners just as much as it supports you! Our practitioners work collaboratively so you get the braintrust of the entire team. We recommend clients to use their intuition in choosing a practitioner that they resonate with.

Can you connect me with Vasant Lad's clinic in Pune?
While AyurPrana associates very closely with Vasant Lad's lineage and teachings, we are not affiliated with the clinic in Pune. At this time the Pune clinic is closed until further notice.
As Ayurveda is not a licensed practice of medicine (we do hope this changes one day!), most insurance companies do not cover our services.
Do you have doctors on staff?

Some of our practitioners are licensed medical providers. While they draw upon that education and experience, they function as educators and do not practice under their license. All of our staff are certified Ayurvedic practitioners.
How long will it take for me to see results?

Results vary as each client is unique. We often suggest a client to consistently implement their routine and work closely with their practitioner for education tweaks. Some level of success is often apparent quickly, but deeper work often takes longer. As always, we expect our clients to work with their provider for implementation of the education as Ayurveda is not a licensed practice of medicine.
Why do I have to pay up front?

We require payment upon booking to lock in and confirm your appointment. A considerable amount of time goes into preparing for your consultation. This process ensures that we wisely use our practitioners' time for the clients that are committed to their appointment.

Why didn't anyone pick up the phone when I called?

It is the care team's main priority to take care of clients and provide the support we believe you all deserve. We strive to understand and find solutions for each one of our clients in a compassionate and courteous manner. That being said, we try our best to answer calls and emails as they come in and we do ask for your patience and courtesy when interacting with our staff.

Are my herbs included in the cost of my consultation?

Herbal formulas and products are not included in the cost of an Ayurwellness consultation, as each of these formulations can vary in ingredients and price.

Can I have a consultation for my underage child?

While AyurPrana cannot directly provide a consultation with minors due to legal liability, we can offer a consultation to an adult or guardian and provide excellent education as it relates to any questions that you make have on behalf of this underage child.