Ayurvedic Wisdom for Menopausal Grace

Discover the Secrets of Graceful Aging with Ayurveda and Expert Guidance
LIMITED TIME OFFER: Ends Oct. 25
2 FREE LIVE Q&A Sessions with Dr. Vrinda Devani OBGYN
Total Bundle Value $350
Only $199!
Ayurvedic Wisdom for Menopausal Grace

Discover the Secrets of Graceful Aging with Ayurveda and Expert Guidance
LIMITED TIME OFFER: Ends Oct. 25
2 FREE LIVE Q&A Sessions with Dr. Vrinda Devani OBGYN
Total Bundle Value $350
Only $199!
Join us to navigate the transformative journey of menopause with confidence and grace.
Our exclusive course bundle is tailored for women who seek holistic insights into the Vata stage of life, with a special focus on menopause. Gain an understanding of Ayurvedic principles and their application in the vata stage of life and during menopause. Learn what to expect and how to embrace this beautiful time in life.
What You'll Get:
Embrace the Matriarch Years: Ayurvedic Insights for Menopause: Join our esteemed OB/GYN and Ayurvedic practitioner Dr. Vrinda Devani and as they explore the esoteric and practical intersection of modern medicine and ancient wisdom to support you during menopause.

Lightness of Being: Balancing the Vata Stage of Life (50+): Explore the Vata stage of life with renowned Ayurvedic expert Vasant Lad. Gain valuable insights into maintaining balance and vitality during this transformative time.

Bonus: 2 Live Q&A Sessions with Dr. Vrinda Devani Our OB/GYN: Get your burning questions answered by our expert OB/GYN, ensuring you have the knowledge and support you need for a smooth menopause journey.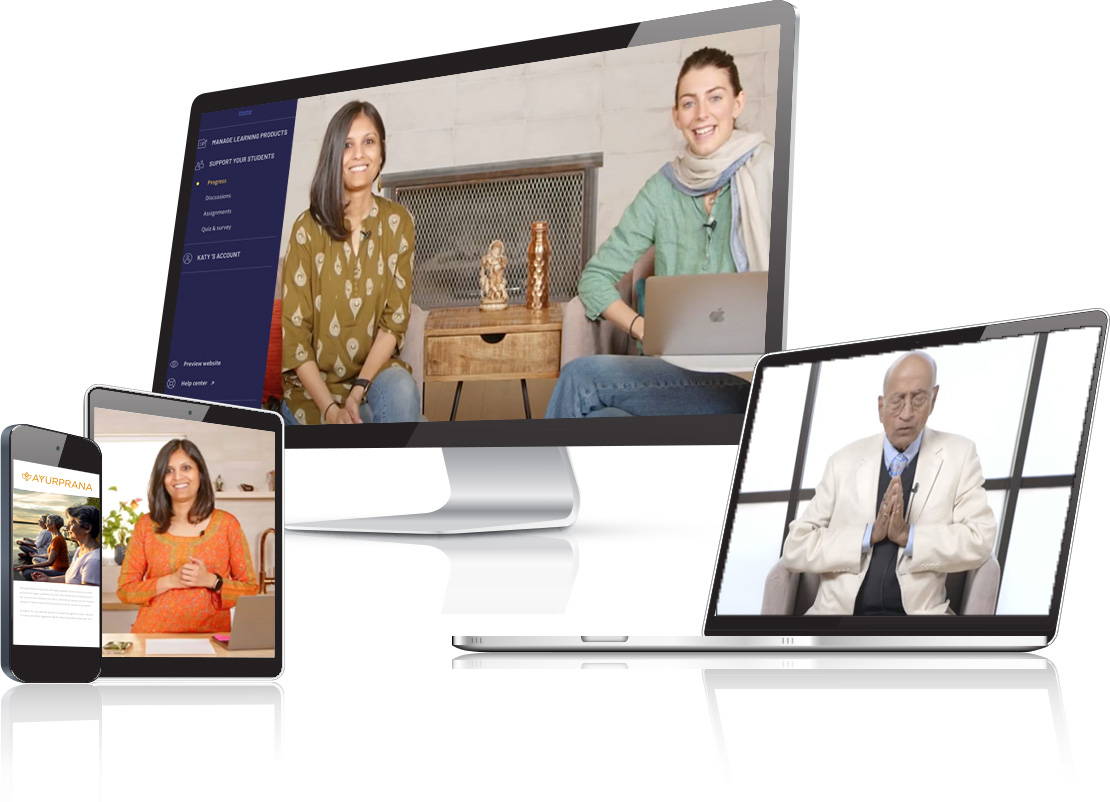 In Ayurveda, life is divided into different stages, each marked by distinct physical and mental characteristics. The Vata stage of life, typically starting around the age of 50, is characterized by the predominance of the Vata dosha, which represents the elements of air and ether. During this stage, women may experience changes in their bodies and minds, such as increased dryness, variability in energy levels, and heightened sensitivity. Ayurveda offers a holistic approach to navigate these changes by emphasizing practices that nurture stability, warmth, and grounding. Through proper diet, lifestyle choices, and mindfulness, individuals can harness the wisdom of Ayurveda to embrace the vata stage of life with balance and vitality.
Embrace the Matriarch Year: Ayurvedic Insights for Menopause
Menopause, often referred to as the matriarch years, is a significant and transformative phase in a woman's life. Ayurveda recognizes this transition as a pivotal moment when the body undergoes a profound shift in hormonal balance. During this time, the pitta dosha, which represents fire and water elements, can become predominant, leading to various physical and emotional changes. Ayurveda offers profound insights into managing these changes through personalized approaches to nutrition, self-care, and stress reduction. By aligning with Ayurvedic principles, women can embrace menopause as a time of empowerment, self-discovery, and graceful aging.

Enhanced Well-being: Discover how Ayurveda can help you maintain physical and mental well-being during the vata and menopausal years, promoting vitality and balance.

Expert Guidance: Benefit from the wisdom of renowned Ayurvedic experts and a dedicated OB/GYN, ensuring you receive comprehensive and reliable information.

Practical Tools: Acquire practical tools and insights to integrate Ayurvedic practices into your daily life, including dietary recommendations, lifestyle adjustments, and stress-management techniques.
LIVE Q&A - SAVE THE DATES
October 20 and October 25, 2023 at 12pm ET
Enroll now to secure your spot and be ready to participate in the 2 live Q&A sessions with Dr. Vrinda Devani, practicing OB/GYN and Ayurvedic practitioner on Oc. 20 and Oct. 25. Don't miss this rare opportunity to empower yourself with ancient wisdom and modern expertise!
Don't miss this opportunity to empower yourself with ancient wisdom and modern expertise as you embrace the matriarch years. Join our course bundle now and embark on a journey towards holistic well-being and graceful aging.
SPECIAL UPGRADE OPPORTUNITY!
Want to supercharge your wellness journey?
Upgrade to our comprehensive women's health bundle, Ayurvedic Secrets for Women's Health featuring:
🌿 HOLISTIC HORMONES by Vrinda Devani, MD, CAP
🌿 EMPOWERING SELF SUPPORT FOR WOMEN by Vasant Lad, BAM&S, MASc
🌿 2 FREE LIVE Q&A Sessions with Dr. Vrinda Devani, OBGYN
PLUS additional courses worth over $900 for FREE!
🌿 FREE 10+ Hour Shakti Yoga for Women's Health
🌿 FREE Ayurvedic Skincare Webinar
🌿 FREE Estrogen-Dominance Hormonal Imbalance Webinar
🌿 DISCOUNT on 200hr Yoga Teacher Training

Total Bundle Value $1,240
Only $199!
Frequently Asked Questions
How will I view the sessions?
For online viewing, we will utilize the Zoom platform. You will receive clear instructions on how to join. All you need is good internet access; a laptop, tablet, or phone with video and audio capabilities; and a fresh and open mind!
Recorded classes or the live replays are available for online participants, and can be accessed through the AyurLearn Portal. Instructions to access your AyurLearn Portal will be emailed to you shortly after purchase.
What if I have no background in medicine or Ayurveda? Do I need any background to understand the content in the seminar?
Our seminars are intentionally accessible for anyone - even those relatively new to Ayurveda. The speaker may become more technical, but we always bring it back to the basics.

Can I ask the instructor questions during the seminar?
Yes! The live component of any class is interactive. We have a state-of-the-art setup for the speaker to have a life-size view of the audience, as if you are sitting together. There will be designated opportunities to ask questions you have related to the content.

What if I can't join the during the live broadcast? Can I watch the session later?
Absolutely. Online participants will have unlimited access to the full recorded sessions after the live broadcast.
What if I am having technical problems during the live seminar?
You can reach us by utilizing the chat feature in Zoom or emailing care@liveayurprana.com . We will be continuously checking these so that we can respond to you promptly.

What is your refund and cancellation policy?
Programs with live content may be canceled up to 72 hours prior to the start date of the program. Pre-recorded programs are non-refundable. Please contact care@liveayurprana.com to submit a request for cancellation.

Do you offer PACE credits for this seminar?
PACE stands for Professional Acknowledgment for Continuing Education. At the end of your course you will receive a certification that reflects the number of hours completed. The National Ayurvedic Medical Association (NAMA) will generally provide you with 1 PACE credit per hour of instruction. AyurPrana does not offer these credits ourselves and we are not registered with NAMA - nor do we facilitate the submission to NAMA for credit hours, this needs to be competed by the attendee themselves. Our courses ARE accepted for PACE credits - after your course completion, you can submit to NAMA for your PACE credits. Visit NAMA here for more details: https://www.ayurvedanama.org/pace
Got questions? We have answers!