There's a Yogi in the Kitchen
Take your practice off the mat
A series of 5 live classes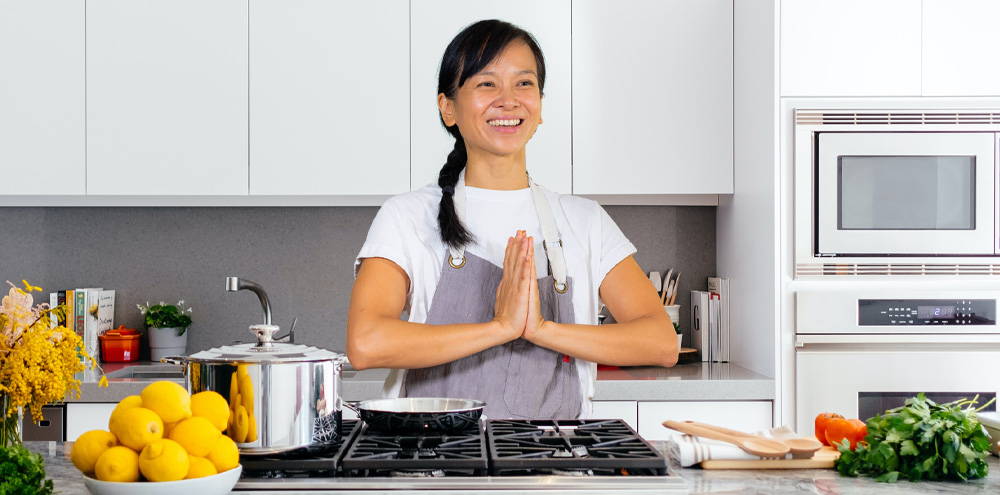 There's a Yogi in the Kitchen
Take your practice off the mat
A series of 5 live classes
5 live sessions led by Pam Jones, 200, 500, 800, 1000 E-RYT Life of a Yogi Dharma Yoga Teacher Training and Faculty, Founder of Karmacoco LLC Yoga and Vegan Food Workshops.

Class Schedule for live sessions: *All classes are 60 minutes with the exception of the 1st course on Nov. 8 - and listed in ET timezone
November 8, 2022: 10:30 am - 12:00 pm (EST)
November 15, 2022: 10:30-11:30 am (EST)
November 22, 2022: 10:30-11:30 am (EST)
November 29, 2022: 10:30-11:30 am (EST)
December 6, 2022: 10:30-11:30 am (EST)
Replays will be made available for 6 months after the course ends through your AyurLearn learning portal.

Dedicated Facebook group* to share photos of your dishes, personal findings and positive insights with the community.

*Please note this group closes 10 days after the immersion.
Let's take our yoga practice off the mat and into the kitchen!
Yoga is a supportive practice that can serve us both on and off the mat. Yet, for many of us, our yoga practice exists separately from our daily life - whether this is stealing a few minutes for our flow before the family wakes, or finding a free hour or two to attend our favorite public class. Imagine we could bring the same liberation, joy, freedom, and empowerment we feel on the mat into other facets of our life!
When we begin to think in this way, even our daily tasks can be transformed and become an extension of the practices we enjoy on the yoga mat. Uncover the joy and mindfulness residing in the everyday moments of our lives.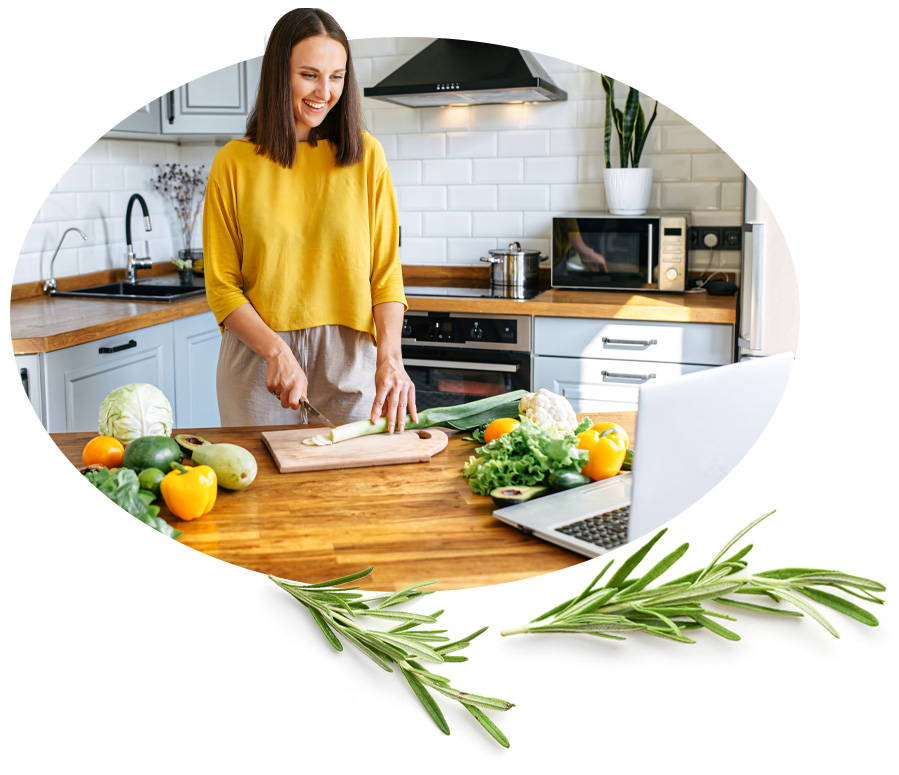 In this course we will gather, in community, and explore how we can bring the philosophy of yoga to life - beginning to cultivate joy and meditation in the kitchen together. In this 5 week immersion we will share tools and tips on how to practice mindfulness when prepping, cooking and eating your food.
We will also dive into the ins and outs of some very tasty vegan recipes, exploring a new, easy, plant-based recipe every week - while learning how to use essential kitchen equipment! You'll get the ingredients and tool lists ahead of the course so that you can cook along, or just enjoy the class and have access to the recordings for use later - all gathering in community as we learn and explore together.
Join Pam Jones, 200, 500, 800, 1000 E-RYT Life of a Yogi Dharma Yoga Teacher Training and Faculty, Founder of Karmacoco LLC Yoga and Vegan Food Workshops, as she teaches us how to create exciting, simple, and delicious vegan recipes from the comfort of your own kitchen. We can confidently assure you that after this immersion you will enjoy spending time in the kitchen!
Combine two nourishing practices by inviting yoga into your kitchen!
We will gather for 5 live online sessions, and prepare a delicious vegan recipe each week, while exploring how to bring the philosophy of yoga to life - cultivating practices like ahimsa (non-harming) and ishvara pranidhana (surrender) as we make delicious and nutritious meals together.
Join Pam Jones, Founder of Karmacoco Yoga and Vegan Food Workshops, as she expands on how the taste and benefits of what we eat can be heightened by the attitudes we cultivate - like love and joy - while prepping, cooking, and eating our food.
You will leave this immersion with a set of new vegan recipes and a deeper understanding of how yoga philosophy can support you in your day-to-day life. Where better to start this journey than in your kitchen, the center of our home!
And if you want to strike a pose while making vegan cheese - we have no problem with that - but it's certainly not a requirement.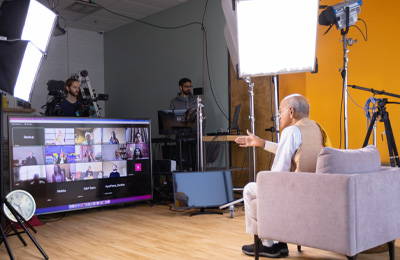 Dive deep into Ayurvedic knowledge on a range of topics with a world-renowned Ayurvedic physician and teacher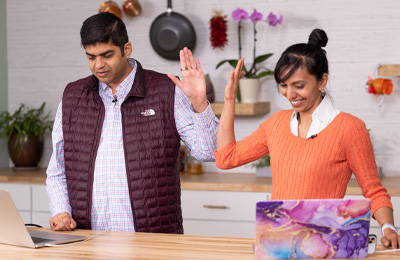 Learn and practice Ayurveda on a range of topics in supportive community
SESSION 1
We will dive into the foundation of yoga - exploring compassion and how we can bring some of the ethical and moral practices of yoga into our kitchen.
We will also share tips on decluttering and reorganizing, while making simple, morish, vegan dips.
SESSION 2
We will explore how to approach food preparation and cooking with mindfulness. We will also explore chants, prayers, and blessings you can use to raise the vibration as you work.
We will begin to sprout almonds to make our own nut milk and learn how to recycle nut pulp to make vegan cheese!
SESSION 3
We will continue to explore mindful preparation as we make our own vegan and gluten free dough for a spiralized vegetable tart. Yes, it's as yummy and nutritious as it sounds!
We will also discuss why it is important to eat mindfully without our phones and laptops - so you don't miss a single delectable bite of this amazing recipe.
SESSION 4
Embodying the principles and practices we've explored so far we will learn how to temper spices - with mindfullness and care - an important skill for any cook!
With this knowledge we'll make our own delightful vegetable samosas - the perfect addition to any gathering!
SESSION 5
In our final session, we are ready to explore how we can promote happiness through generosity - so we'll make something delicious for someone else :) Gift a family member, friend, or neighbor an awesome vegan dessert with Jammie Dodgers/ Pecan snickers bars.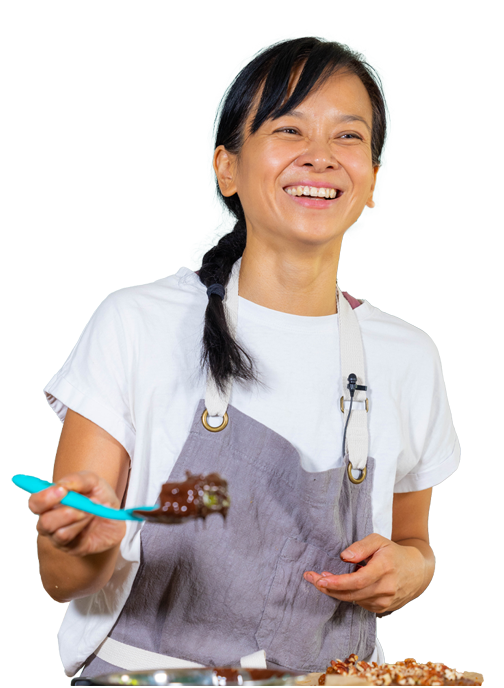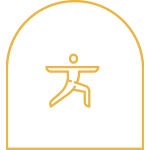 You practice yoga, are interested in yoga philosophy, or enjoy cooking and want to explore how to bring yogic practices into the kitchen while learning delicious yet simple, plant-based recipes from a well-established vegan chef and yoga instructor.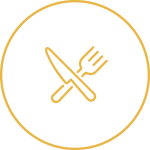 You are a chef, caterer, or personal cook looking to incorporate more vegan offerings into your repertoire of recipes while also learning about how to bring yogi principles into your kitchen.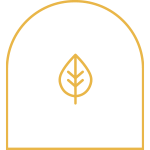 You are interested in a vegan lifestyle and would like to explore concepts like compassion, and non-harming, in the kitchen while learning some accessible and fun plant-based recipes.
A Guide to Living Your Yoga - The Yamas & The Niyamas

Brahmacharya - Non-excess
Aparigraha - Non-attachment / Non-hoarding

Ishvara Pranidhana - Surrender
Yoga, as a wellness system, is more than a collection of poses we take on our mat. It's an approach to living one's life that can lead to communal liberation and self-realization.
Patanjali, a great yoga scholar, is credited with having authored or compiled the Yoga Sutras in the 4th or 5th century. This text lays out a set of observances that we can bring into our daily lives. The Yamas are external observances and the Niyamas can be considered inner observances.
Both the Yamas and the Niyamas help us cultivate a positive environment internally and externally.
We will cultivate the Yamas and Niyamas in the kitchen - looking at how we can use these practices not only to improve the experience of cooking for ourselves and others but come to appreciate how we can nourish ourselves through our senses, moment to moment.
Live Session information:
5 live sessions led by Pam Jones, 200, 500, 800, 1000 E-RYT Life of a Yogi Dharma Yoga Teacher Training and Faculty, Founder of Karmacoco LLC Yoga and Vegan Food Workshops.

Class Schedule for live sessions: *All classes are 60 minutes with the exception of the 1st course on Nov. 8 - and listed in ET timezone
November 8, 2022: 10:30 am - 12:00 pm (EST)
November 15, 2022: 10:30-11:30 am (EST)
November 22, 2022: 10:30-11:30 am (EST)
November 29, 2022: 10:30-11:30 am (EST)
December 6, 2022: 10:30-11:30 am (EST)
Replays will be made available through your AyurLearn learning portal.

Dedicated Facebook group* to share photos of your dishes, personal findings and positive insights with the community.

*Please note this group closes 10 days after the immersion.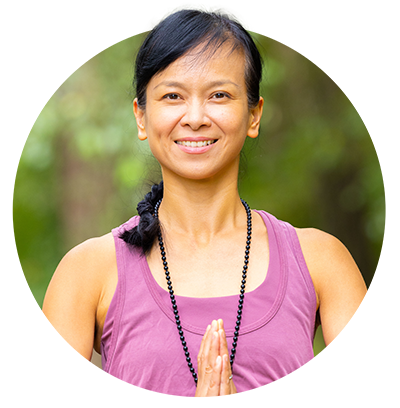 Asheville Yoga Center - Head of Training and Teaching
Pam Jones
200, 500 E-RYT, 800, 1000 Life of a Yogi Dharma Yoga Teacher Training & Faculty
Founder of Karmacoco LLC Yoga and Vegan Food Workshops
Pam had the great fortune of meeting Sri Dharma Mittra and has studied with him for over 15 years. She is a certified 1000hr Dharma Yoga Teacher and serves as a mentor for the Life of a Yogi Dharma Yoga Teacher Training in NYC. She is also a passionate vegan chef and has taught many Yoga and food workshops across the globe. Pam hopes to inspire people - wherever they may find themselves on their yoga journey. She believes that all can practice yoga and by constant practice one can realize their divinity within. Pam currently lives in Asheville, NC, serving the community as a leader at Asheville Yoga Center and AyurPrana.
Frequently Asked Questions

What is an AyurPrana Immersion?

Our immersions deliver a virtual experience aimed at fostering transformation. We offer live content from our esteemed and captivating speakers, practitioners, and teachers straight to you! We want as many people as possible to have access to this life-changing content. We make the content easily available for you, whether you are in the comfort of your home, at your favorite coffee shop, or on the beach.
Can I ask the instructor questions during the immersion?

Yes! The live component of any class is interactive. We have a state-of-the-art setup for the speaker to have a life-size view of the audience, as if you are sitting together. There will be designated opportunities to ask questions you have related to the content.

What if I have no background in medicine or Ayurveda? Do I need any background to understand the content in the immersion?

Our immersions are intentionally accessible for anyone - even those relatively new to Ayurveda. This particular webinar will be best enjoyed by someone with at least an introductory background in the science of Ayurveda. The speaker may become more technical, but we always bring it back to the basics.

How will I view the session?

For live sessions, we will utilize the Zoom platform. You will receive clear instructions on how to join. All you need is good internet access; a laptop, tablet, or phone with video and audio capabilities; and a fresh and open mind!
Recorded classes or the live replays will be accessed through the AyurLearn Portal. Instructions to access your AyurLearn Portal will be emailed to you shortly after purchase.
What if I can't join the during the live broadcast? Can I watch the sessions later?
Absolutely. You will have full access to the recorded sessions for at least 6 months after the live broadcast.
What is your refund and cancellation policy?

Immersions may be canceled up to 72 hours prior to the start date of the session. Please contact care@liveayurprana.com to submit a request for cancellation.

What if I am having technical problems during the live immersion?

You can reach us immediately by utilizing the chat feature in Zoom or emailing care@liveayurprana.com . We will be continuously checking these so that we can respond to you promptly.