Channels of the Body - Srotamsi
30+ hours of recorded content taught by Ayurvedic Master, Vasant Lad, BAM&S, MASc
The channels of the body (or srotamsi) are both physiological and energetic in nature. They are responsible for transportation, communication, and key vital functions within the body. Each with its distinct function, the channels unite individual components of the body. In this webinar, you will discover:
the 13 channels of the body

the detailed pathways, beginning with the root and ending with the opening

Why understanding these channels are crucial to the development of an Ayurvedic practitioner and healer
This bundle includes 8 parts
Ayurvedic Introduction to the Channels of the Body - There are 13 channels of the body (or srotamsi) which are both physiological and energetic in nature. They are responsible for transportation, communication, and key vital functions within the body. Each with its distinct function, the channels unite individual components of the body.
Prana Vaha Srotas (The Channel of Our Vital Breath) - The concept of prana is both tangible and mysterious at the same time. It is our vital breath, both in the sense of providing basic oxygenation to the body as well as providing awareness and true vitality. You will gain the ability to understand both physical and subtle nature of our life force, prana!
Anna Vaha Srotas (The Channel of Food) - This channel does so much more than transporting food from the mouth and delivering it to the intestines. Ayurveda has profoundly taught us that digestion begins in the mouth. This channel provides information to the rest of the digestive tract and organs to prime them for the coming nutrients while simultaneously beginning to break down food.
Udaka and Ambu Vaha Srotas (The Water Channels) - We know that our body is 75% water. But how does our body process and digest water? How does it eliminate water in a healthy manner? Water is absolutely essential to our body, and it is easy to assume that all you have to do is drink water. But if it were that simple, disorders such as edema, dehydration, glaucoma, and renal disorders would not exist.
Rasa Vaha Srotas (The Channels of Nutrition) - Rasa is an intricate channel that conveys the essential nutritive elements for the first tissues formed after the digestion of food. These nutritive juices nourish the tissues of all organs in the body - supporting all the processes of life. When this vast and intricate system is out of balance it can present in disorders as wide-ranging as ringing in the ears / hypersensitivity to sound, anemia, heart palpitations, and hair loss.
Rakta Vaha Srotas (The Channels of the Blood) - Rakta Vaha Srotas is the channel involved in the production and transportation of the blood within the body. The flow of blood plays a crucial role in the delivery of fresh nutrients and oxygen, while also helping in the removal of waste products like carbon dioxide. When this delicate internal system finds itself out of balance it can present as a number of disorders; including anemia, ulcers in and around the mouth, abscesses, skin rashes, and inflammation in various parts of the body.
Ashti Vaha Srotas (The Channels of the Bone) - Bone tissue is one of the main sites of the Vata dosha, which is primarily composed of ether and air elements. When these elements increase in our environment, such as during fall season or naturally as we age, we can become prone to imbalances within this system. Particularly for women approaching menopause, as estrogen levels decline, the activity of osteoblasts (the cells that build bone) also decline.
Mamsa Vaha Srotas (The Channels of the Muscle) - Our muscular system is essential for sustained and healthy living - our blood circulation, our chewing and swallowing, our solar plexus and intercostal muscles that allow us to breathe, the movement of our intestines are all driven by muscle. This channel also has a psychological element where Mamsa provides our sense of ambition and security, our boldness, firmness, and the sense of responsibility.
Ayurvedic Visionary & Master

Vasant Lad BAM&S, MASc
As the founder and director of The Ayurvedic Institute, Vasant Lad has worked tirelessly for the last 40 years to bring the deep insights and transformative power of Ayurveda to the West. His passion for healing has garnered him respect throughout the world, and he is considered the premiere authority on Ayurveda outside of India. His webinars offer the essence of decades of teaching and clinical practice, providing you with both inspiring theory and rigorous practical application while weaving in his personal spiritual insights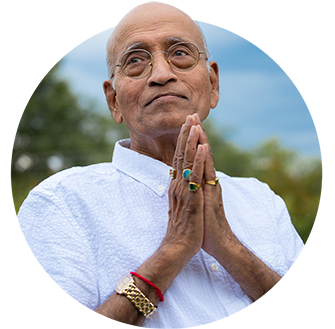 Channels of the Body - Srotamsi
Frequently Asked Questions

How will I access the recorded content?
Once you purchase the recording we will send you an email with all the information required to access your purchased content.
We host all of our learning materials in our AyurLearn portal.
If you do not yet have an AyurLearn account you will receive an email helping you set this up, after that you will be able to go into your AyurLearn portal and view your recorded content there.

If you already have an account you can login to your AyurLearn portal and your new recorded content will be ready and waiting!
You can login to the AyurLearn portal - or reset your password - here
Having trouble accessing your content? Please feel free to email us at care@liveayurprana.com
How long will I have access to the recordings?
Once you have signed up for a webinar as a live offering or as a recording you will have access to that product and recorded content indefinitely! This includes access to class handouts, any downloads, white board notes, and drawings (where applicable) for as long as you need!
You can always come back to your AyurLearn portal and access this content. If you are having trouble accessing your content you can reach out to us here: care@liveayurprana.com
Can I get a discount for purchasing a recording?
The quality of our recorded content is extremely important to us and we strive to create content that maintains our high level of instruction and presentation throughout. This means that even our recorded content has a high educational and experiential value. We price our recordings accordingly - and the listed price takes into account all the material you will get access to. For this reason we do not offer discounts on recorded content.
What if I have no background in medicine or Ayurveda? Do I need any background to understand the content in the seminar?
Our seminars are intentionally accessible for anyone - even those relatively new to Ayurveda. This particular seminar will be best enjoyed by someone with an understanding of Ayurvedic concepts around the doshas and the prakruti-vikruti paradigm.The speaker may become more technical, but we always bring it back to the basics.

I heard mention of a practice / herb protocol / books / technique in the content - where can I find out more information?
Please check all of the downloadable content in your course - often content creators have a number of additional learning resources available for download and will specify these details in these downloadable handouts.
If the content is mentioned in the presentation of the course and not included in the support materials you can reach out to us here: care@liveayurprana.com and we will see if we can help!
Alternatively, if you would like to explore a practice, herb protocol, or technique mentioned in the course but would like to learn more about it you can schedule a wellness consultation with one of our Ayurvedic Practitioners here.
Do you offer PACE credits for this seminar?
PACE stands for Professional Acknowledgment for Continuing Education. At the end of your course you will receive a certification that reflects the number of hours completed. The National Ayurvedic Medical Association (NAMA) will generally provide you with 1 PACE credit per hour of instruction. AyurPrana does not offer these credits ourselves and we are not registered with NAMA - nor do we facilitate the submission to NAMA for credit hours, this needs to be competed by the attendee themselves. Our courses ARE accepted for PACE credits - after your course completion, you can submit to NAMA for your PACE credits. Visit NAMA here for more details: https://www.ayurvedanama.org/pace
Can I meet the instructor/s for an Ayurvedic consultation?
Not all of our content creators are available for consultations - but all of our content creators are supported by one of our Ayurvedic Practitioners who work on the course / webinar content and help facilitate. You can explore our active Ayurvedic Practitioners here
If you would like to enquire about consultations with Vasant Lad - you can add your name to the waitlist here - please note that we proceed down this list on a first come first served basis, but will access and prioritize severe cases. Please note that it can be 18 months before an available consultation opens with Vasant Lad.
What is your refund and cancellation policy?
We do not offer cancellations or refunds for recorded webinars.
Got questions? We have answers!