VEGAN & AYURVEDIC COOKING WEBINAR
VEGAN HOLIDAY RECIPES
Plant-based Meals
Perfect for the Season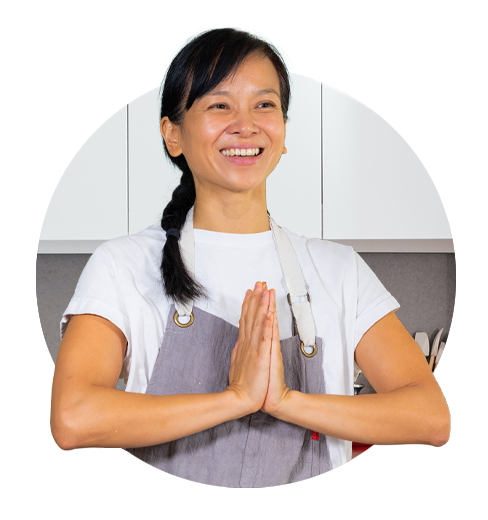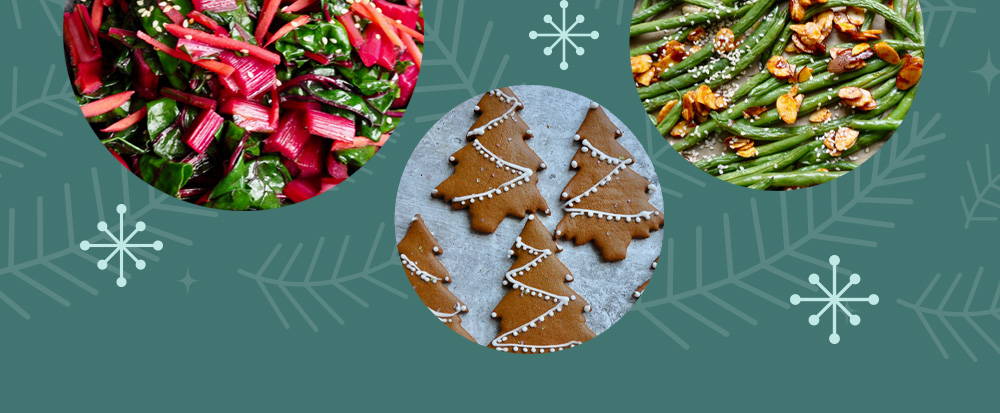 VEGAN & AYURVEDIC COOKING WEBINAR
VEGAN HOLIDAY RECIPES
Plant-based Meals
Perfect for the Season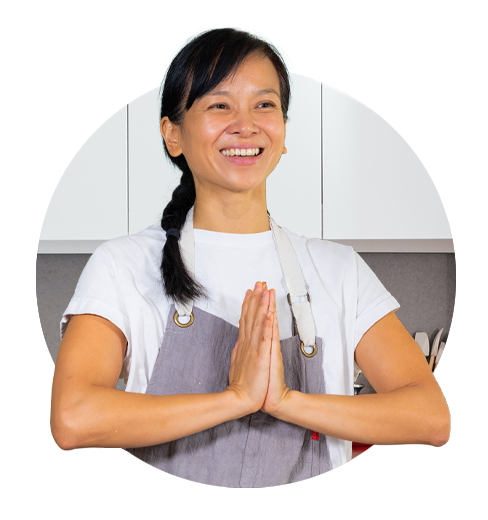 Join vegan chef Pam Jones and learn to cook a plant-based 3 course meal perfect for the season, with a collection of recipes right at home on any festive menu.
In this 90-minute webinar you'll learn how to make 3 dishes, starting with a delicious and warming red lentil soup, followed by a hearty veggie bake with sweet potato mash, and scrumptious Gingerbread cookies that will fly off the table!
You'll learn about the various spices we use in these recipes and the benefits they can provide, while exploring the Ayurvedic concept of the 6 tastes (rasas) and how to incorporate these into our meals so that we can nourish our entire being!
Get your apron on and let's make delicious and nutritious food together! And if you can't make the date and time - don't worry, we have you covered with recipe handouts and a recording of the webinar you can access whenever you need.
Whether for yourself or to ensure all your guests' culinary needs are covered for the upcoming holiday feasts, these versatile recipes will be a hit over and over again!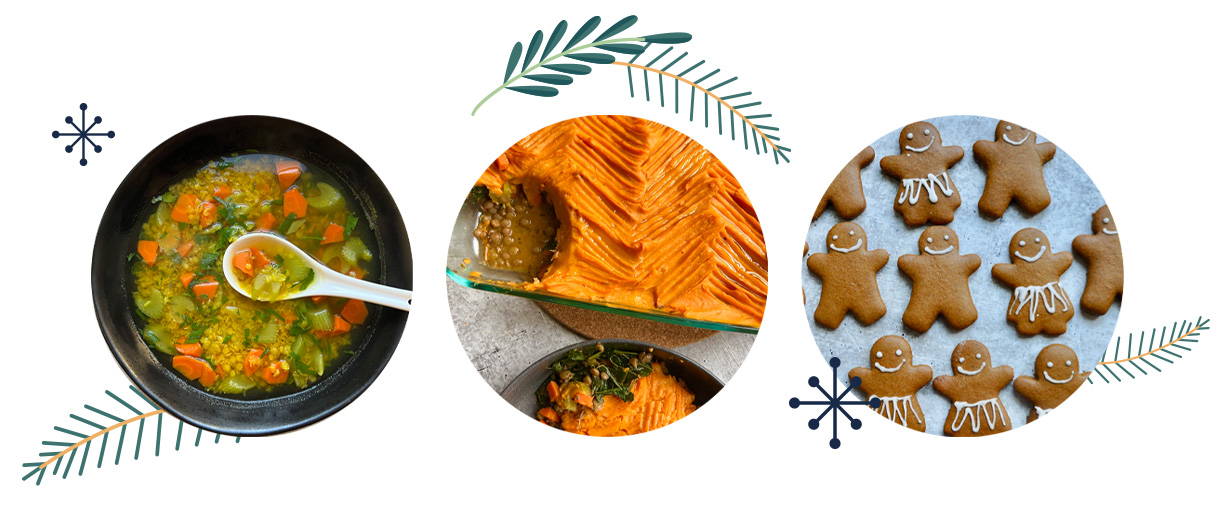 Topics will we cover in this webinar
Join Pam Jones, Founder of Karmacoco LLC Yoga and Vegan Food Workshops and Head of Training and Teaching at Asheville Yoga Center, as she walks us, step by step, in making a delicious 3 course plant-based and vegan-friendly meal perfect for the season.
What we'll explore together:
Prepping and cooking 3 vegan recipes together - a red lentil soup, a veggie bake with sweet potato mash, and gingerbread cookies!

How to incorporate the 6 tastes in your meals, an Ayurvedic approach that gives insight into how tastes can help nourish our being

The benefits of spices and how to cook with them

Ways to increase our joy, awareness and confidence in the kitchen
This webinar will be recorded and shared with you, along with all the recipes and ingredients - so you can confidently remake these amazing dishes whenever you need!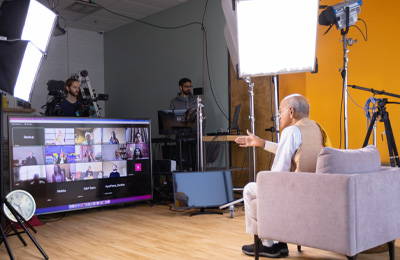 Dive deep into Ayurvedic knowledge on a range of topics with a world-renowned Ayurvedic physician and teacher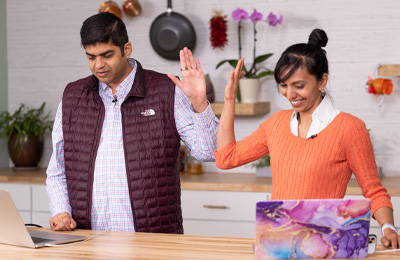 Learn and practice Ayurveda on a range of topics in supportive community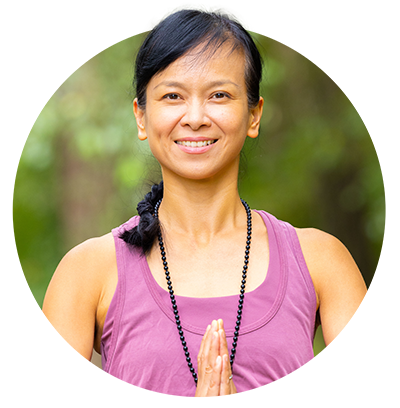 Asheville Yoga Center - Head of Training and Teaching
Pam Jones
200, 500 E-RYT, 800, 1000 Life of a Yogi Dharma Yoga Teacher Training & Faculty
Founder of Karmacoco LLC Yoga and Vegan Food Workshops
Pam had the great fortune of meeting Sri Dharma Mittra and has studied with him for over 15 years. She is a certified 1000hr Dharma Yoga Teacher and serves as a mentor for the Life of a Yogi Dharma Yoga Teacher Training in NYC. She is also a passionate vegan chef and has taught many Yoga and food workshops across the globe. Pam hopes to inspire people - wherever they may find themselves on their yoga journey. She believes that all can practice yoga and by constant practice one can realize their divinity within. Pam currently lives in Asheville, NC, serving the community as a leader at Asheville Yoga Center and AyurPrana.
Frequently Asked Questions

What is an AyurPrana Webinar?

Our webinars deliver a virtual experience aimed at fostering transformation. We offer live content from our esteemed and captivating speakers, practitioners, and teachers straight to you! We want as many people as possible to have access to this life-changing content. We make the content easily available for you, whether you are in the comfort of your home, at your favorite coffee shop, or on the beach.
Can I ask the instructor questions during the webinar?

Yes! The live component of any class is interactive. We have a state-of-the-art setup for the speaker to have a life-size view of the audience, as if you are sitting together. There will be designated opportunities to ask questions you have related to the content.

What if I have no background in medicine or Ayurveda? Do I need any background to understand the content in the Webinar?

Our webinars are intentionally accessible for anyone - even those relatively new to Ayurveda. This particular webinar will be best enjoyed by someone with at least an introductory background in the science of Ayurveda. The speaker may become more technical, but we always bring it back to the basics.

How will I view the session?

For live sessions, we will utilize the Zoom platform. You will receive clear instructions on how to join. All you need is good internet access; a laptop, tablet, or phone with video and audio capabilities; and a fresh and open mind!
Recorded classes or the live replays will be accessed through the AyurLearn Portal. Instructions to access your AyurLearn Portal will be emailed to you shortly after purchase.
What if I can't join the during the live broadcast? Can I watch the sessions later?
Absolutely. You will have full access to the recorded sessions for at least 6 months after the live broadcast.
What is your refund and cancellation policy?

Immersions may be canceled up to 72 hours prior to the start date of the session. Please contact care@liveayurprana.com to submit a request for cancellation.

What if I am having technical problems during the live webinar?

You can reach us immediately by utilizing the chat feature in Zoom or emailing care@liveayurprana.com . We will be continuously checking these so that we can respond to you promptly.