HARMONY THROUGH MOVEMENT:

YOGA BUNDLE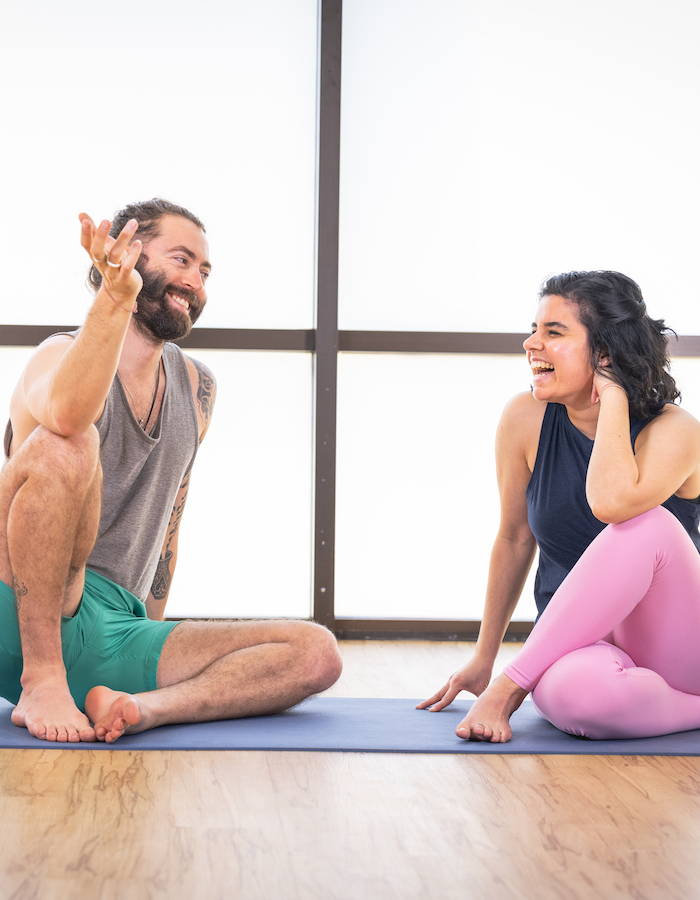 This year deepen your yoga practice with 3 separate practical yoga immersions with specific sequences and poses that will offer balance to your physical, mental, emotional, and spiritual being.
These immersions will be hosted by 2 of our Ayurvedic Practitioners and AyurYoga specialists - Nishita Shah & Dave Yoss. In each of these live and recorded sessions you will be introduced to yoga from an Ayurvedic perspective, as a practice that can offer great benefits to our physical, emotional, mental, and spiritual selves. There will also be an opportunity to ask questions with Vasant Lad, Ayurvedic visionary, and gain an understanding to the more subtle side of these asana.

These sessions will also offer you the opportunity to develop a daily yoga routine in community with others while being educated, guided, and supported by Nishita and Dave.
Come to a deeper understanding of what your daily yoga routine can offer you by diving into each of these immersions
LEARN TOGETHER: LIVE CALLS AND COMMUNITY FORUM

Community
There will be a private Facebook group per immersion where you can join discussions, post questions, and get to know your instructors and fellow students a little better!
Video Lessons & Replays
Please note that all LIVE sessions are recorded and you will be given access to your own AyurLearn portal where you can access all the immersion sessions, recorded video lessons and supporting materials whenever you like.
Live Sessions
Join us in live zoom classes to deepen your experience and ask your specific questions to our team of experienced teachers and practitoners.
Questions?
Get answers to your questions during our live sessions or ask your questions through our community portal.

THREE IMMERSIONS: YOGA TO UNLOCK THE SUN, MOON AND YOUR DOSHA

Balanced Being: Dosha-Focus
you

practice yoga

and have an interest in learning yoga asana and sequences to deepen your yoga practice.
you are a

yoga teacher

and would like to deepen your offering through specific routines and modifications that incorporate Ayurvedic body types.
you are an

ayurvedic practitioner

and would like to incorporate more yoga into your offerigng with your clients

you want to hear what Vasant Lad has to say about incorporating specific yoga routines into your dinacharya and have an opportunity to ask him questions in our live sessions.
Ayurvedic Visionary & Master

VASANT LAD BAMS & MASc
As the founder and director of The Ayurvedic Institute, Vasant Lad has worked tirelessly for the last 40 years to bring the deep insights and transformative power of Ayurveda to the West. His passion for healing has garnered him respect throughout the world, and he is considered the premiere authority on Ayurveda outside of India. His webinars offer the essence of decades of teaching and clinical practice, providing you with both inspiring theory and rigorous practical application while weaving in his personal spiritual insights
AyurYoga and Ayurveda Instructor

NISHITA SHAH, CAP, E-RYT-500, C-IAYT

Nishita is a passionate Ayurvedic practitioner, yoga teacher & trainer, and a certified yoga therapist. While studying at the Ayurvedic Institute (AI), Nishita had the great fortune to learn Ayuryoga with Vasant Lad, BAM&S, MASc, and received her 500-hr AyurYoga certification. Nishita now leads and develops the curriculum for all the Yoga Teacher Trainings at the Ayurvedic Institute for both the 200 & 300-hr programs. Prior to her studies at the Ayurvedic Institute, Nishita attended the University of Alabama at Birmingham where she received a Bachelor of Science in Psychology. Nishita loves cooking and her delicious recipes regularly find their way into our cleanses and onto our dinner tables!
AyurYoga and Ayurveda Instructor

DAVE YOSS, AP, E-RYT-500, C-IAYT

Dave is a kind and highly knowledgeable Ayurvedic practitioner, lifestyle consultant, and dedicated yoga teacher and trainer. Dave graduated from the Ayurvedic Institute and the Gurukula program in Pune, India, under Vasant Lad. He began teaching in 2011 and has been an integral part of the Ayurvedic Institute's faculty ever since. Dave has led over 10 Yoga Teacher Training Programs and is a master teacher at the Tantric Alchemy Institute in Costa Rica, where he helped lead their 300-hr Yoga Teacher Training. Dave is best known for his love of teaching and appreciation for plants of all kinds!
THREE SESSION YOGA IMMERSION
2 live classes and Q/A with Ayurvedic Master and Visionary Vasant Lad. Introductory video lesson for each immersion by Vasant Lad.

18 Hours of recorded lessons covering Yoga asana theory and practice with Nishta and Dave

20 live classes, demonstrations and Q/A with Nishita and Dave

Access to private Facebook / Community groups to review materials, share ideas and ask your questions. Group will be moderated by Nishita, Dave and AyurPrana practitioners and teachers.

Access to video content in the AyurLearn learning protal with replays available for 6 months.

Still not sure? Reach out to our care team with your questions. Email us at info@liveayurprana.com
Frequently Asked Questions

WHO CAN ATTEND THIS CLASS?

This immersion is for anyone with an interest in yoga, breathwork, and developing daily habits or rituals that can enrich your daily life. Surya Namaskar and Chandra Namaskar are standing, flowing, yoga sequence that requires a decent range of motion. You do not have to be a regular/experienced yoga practitioner to attend and benefit from this immersion - our practitioners will work with you to help develop your own practice at your own level. Any body type from any age group is welcome in this immersion!
Please reach out to us if you would like to discuss physical accommodations - especially if you are differently abled and want to understand how we can adapt this practice for you.
What is an AyurPrana immersion?

Our immersions deliver a virtual experience aimed at fostering transformation. We offer a combination of pre-recorded and live content from our esteemed and captivating speakers, practitioners, and teachers straight to you! We want as many people as possible to have access to this life-changing content. We make the content easily available for you, whether you are in the comfort of your home, at your favorite coffee shop, or on the beach.
Can I ask the instructor questions during the immersion?

Yes! The live component of any class is interactive. We have a state-of-the-art setup for the speaker to have a life-size view of the audience, so it is as if you are sitting together. There will be designated opportunities to ask questions you have related to the content. We also have a dedicated Facebook group where you can ask additional questions and get to know your immersion friends!
What if I have no background in medicine or Ayurveda? Do I need any background to understand the content in the immersion?

Our immersions are intentionally accessible for anyone - even those relatively new to Ayurveda. These particular marma immersions will be best enjoyed by someone with at least an introductory background in the science of Ayurveda. The speaker may become more technical, but we always bring it back to the basics. This immersion doesn't require a deep knowledge of anatomy and physiology - Dr. Susan Salvo will cover much of that in a lesson during this immersion.
How will I view the sessions?

For live sessions, we will utilize the Zoom platform or Facebook Live. You will receive clear instructions on how to join. All you need is good internet access; a laptop, tablet, or phone with video and audio capabilities; and a fresh and open mind!
Recorded classes or the live replays will be accessed through the AyurLearn Portal. Instructions to access your AyurLearn Portal will be emailed to you shortly after purchase.
What if I can't join the during the live broadcast? Can I watch the sessions later?
Absolutely. You will have full access to the recorded sessions for at least 6 months after the live broadcast.
What is your refund and cancellation policy?

Immersions may be canceled up to 72 hours prior to the start date of the session. Please contact info@liveayurprana.com to submit a request for cancellation.

What if I am having technical problems during the live webinar?

You can reach us immediately by utilizing the chat feature in Zoom or emailing info@liveayurprana.com . We will be continuously checking these so that we can respond to you promptly.

Got questions? We'D love to get you answers!
Contact us at info@liveayurprana.com