NOURISHED SELF

AYURVEDIC COOKING AND NUTRTION

Sneha Raichada MPT, CAP, E-RYT-200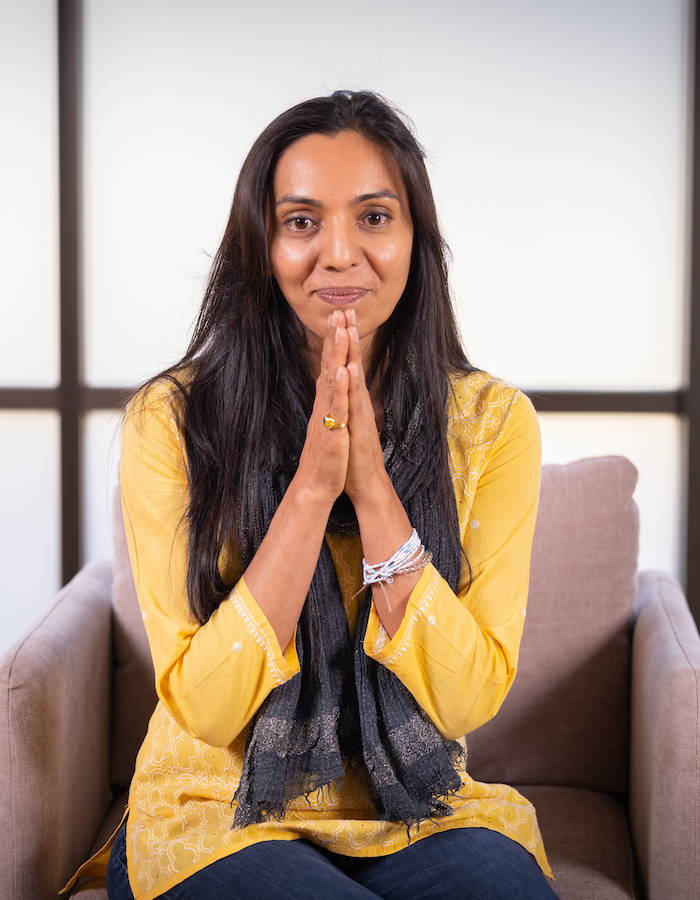 Join us every Tuesday at 8:30am MST
Feb. 1 - 22, 2022.
In this 4-week immersion you will come to know the basics of Ayurvedic cooking and nutrition along with simple hacks and recipes that can support you as you move through your day.
There is nothing more human than cooking and eating together. We gather in the kitchen and in that moment, we mirror our fellows across the globe, and generations of our ancestors, preparing meals for ourselves and our loved ones.
For more than 5,000 years, people have used the healing system of Ayurveda - with its great emphasis on the connection between diet and wellbeing - to live into the concept that we truly are what we eat.
Within Ayurveda's holistic approach to nutrition, we can develop a proactive relationship to our food and eating habits - enabling our own radical self-healing. This immersion is designed to introduce you to the basics of Ayurvedic cooking and nutrition - with practical recipes and suggestions that can bring this transformative knowledge to your table in delicious ways!
Good food and nutrition are integral to our body's natural healing processes and provide daily opportunities for self-care. This is why we intuitively choose to help our bodies get healthy by changing our diet - and often it's our cravings that seem to undo us in these endeavors. This immersion will lend understanding to this process within our bodies so that you can, over time, come to eat in a way that allows you to enjoy your food, find nourishment, and present as your best self in the world!

TOPICS WE WILL COVER IN THIS IMMERSION...

How Ayurveda defines health and nutrition

How we create and eliminate toxins (ama) through what we eat

Eating for your particular constitution (dosha)

Exploring the qualities of nature (gunas) and how they appear in our diet

How food and nutrition can impact our mood and emotions

Understanding cravings from an Ayurvedic perspective

The 6 tastes of the tongue and how this helps us feel satiated

How to modify meals and diets

LEARN TOGETHER: LIVE CALLS AND COMMUNITY FORUM

Community
There will be a private Facebook group per immersion where you can join discussions, post questions, and get to know your instructors and fellow students a little better!
Video Lessons & Replays
Please note that all LIVE sessions are recorded and you will be given access to your own AyurLearn portal where you can access all the immersion sessions, recorded video lessons and supporting materials whenever you like.
Live Sessions
Join us in live zoom classes to deepen your experience and ask your specific questions to our team of experienced teachers and practitoners.
Questions?
Get answers to your questions during our live sessions or ask your questions through our community portal.

JOIN US FOR AYURVEDIC HACKS AND PRACTICAL TIPS

you are an

inspired learner with an interest in Ayurveda

and want learn about Ayurveda's views on nurtition and cooking.

This offering has been designed with everyone in mind. You do not need to be a serious cook or have extensive knowledge in Ayurveda to benefit from this immersion.

Dean of Education, Ayurvedic Instittue

SNEHA RAICHADA MPT, CAP, E-RYT-200

Prior to becoming the Dean of Education at the Ayurvedic Institute, Sneha had a remarkable journey as an executive of a thriving hospitality business. Luckily for us, Sneha now focuses all her energy on developing the next generation of Ayurvedic Practitioners and providing thoughtful care for her clients. While practicing as an Ayurvedic Practitioner, Sneha combines her early experience as a Physical Therapist with extensive classroom and clinical study under Vasant Lad in the US and India, Yoga Teacher Certification, and Reiki III Certification. When she has a free moment, Sneha is most often found experimenting with fresh ingredients, applying the deep wisdom of Ayurveda to all her delectable creations.
NOURISHED SELF:
AYURVEDIC COOKING AND NUTRTION IMMERSION
Join Sneha every Tuesday at 8:30am MST from Feb. 1 - 22, 2022.


These 4 sessions will be LIVE for 60 minutes with recordings of each session available for replay through our AyurLearn portal.

Handouts and recorded videos to support your learning through the 4 week process

Access to private Facebook / Community groups to review materials, share ideas and ask your questions. Group will be moderated by AyurPrana practitioners and teachers.

Access to video content and live session replays in the AyurLearn protal with replays available for 6 months.

Still not sure? Reach out to our care team with your questions. Email us at info@liveayurprana.com
FREQUENTLY ASKED QUESTIONS

What is an AyurPrana immersion?

Our immersions deliver a virtual experience aimed at fostering transformation. We offer a combination of pre-recorded and live content from our esteemed and captivating speakers, practitioners, and teachers straight to you! We want as many people as possible to have access to this life-changing content. We make the content easily available for you, whether you are in the comfort of your home, at your favorite coffee shop, or on the beach.
Can I ask the instructor questions during the immersion?

Yes! The live component of any class is interactive. We have a state-of-the-art setup for the speaker to have a life-size view of the audience, so it is as if you are sitting together. There will be designated opportunities to ask questions you have related to the content. We also have a dedicated Facebook group where you can ask additional questions and get to know your immersion friends!
What if I have no background in medicine or Ayurveda? Do I need any background to understand the content in the immersion?

Our immersions are intentionally accessible for anyone - even those relatively new to Ayurveda. These particular marma immersions will be best enjoyed by someone with at least an introductory background in the science of Ayurveda. The speaker may become more technical, but we always bring it back to the basics. This immersion doesn't require a deep knowledge of anatomy and physiology - Dr. Susan Salvo will cover much of that in a lesson during this immersion.
How will I view the sessions?

For live sessions, we will utilize the Zoom platform or Facebook Live. You will receive clear instructions on how to join. All you need is good internet access; a laptop, tablet, or phone with video and audio capabilities; and a fresh and open mind!
Recorded classes or the live replays will be accessed through the AyurLearn Portal. Instructions to access your AyurLearn Portal will be emailed to you shortly after purchase.
What if I can't join the during the live broadcast? Can I watch the sessions later?
Absolutely. You will have full access to the recorded sessions for at least 6 months after the live broadcast.
What is your refund and cancellation policy?

Immersions may be canceled up to 72 hours prior to the start date of the session. Please contact info@liveayurprana.com to submit a request for cancellation.

What if I am having technical problems during the live webinar?

You can reach us immediately by utilizing the chat feature in Zoom or emailing info@liveayurprana.com . We will be continuously checking these so that we can respond to you promptly.

Got questions? We'D love to get you answers!
Contact us at info@liveayurprana.com