Ayurveda and Mental Health
Webinar 1 of 3

MIND, BODY & CONSCIOUSNESS THROUGH AN AYURVEDIC LENS
Ayurveda and Mental Health
Webinar 1 of 3
MIND, BODY & CONSCIOUSNESS: AN AYURVEDIC LENS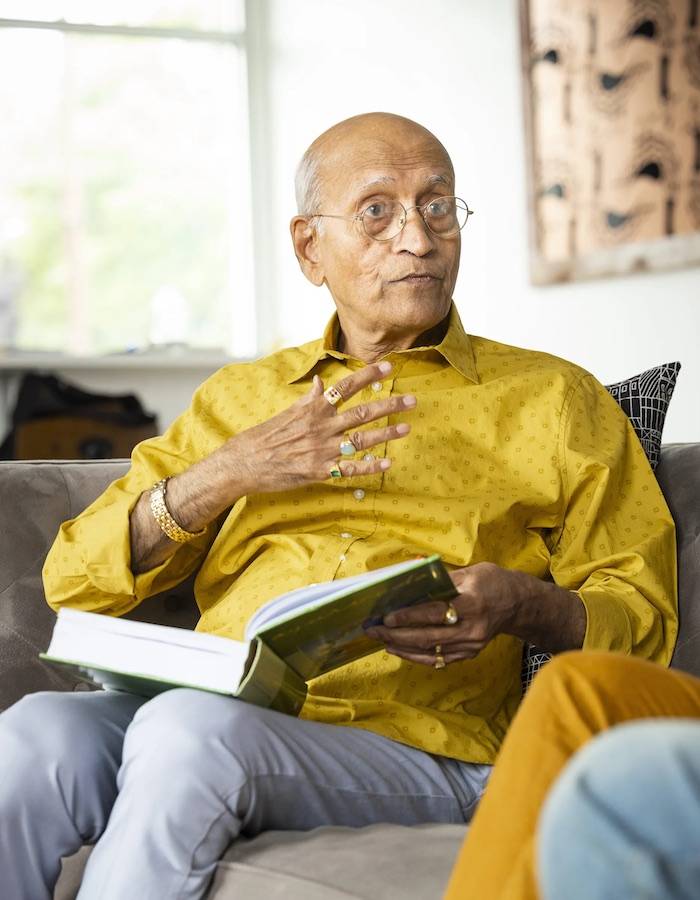 Mar 25, 2022
10am - 1pm MST
(with a tea break, replay available)

Feb. 25, 2022
10am - 1pm
(with a tea break and replay available)

Interconnected Being
Ayurveda acknowledges that we are made up of many aspects, and that the cause of what we are suffering is often a result of more than just our biology or psychology. Through the Ayurvedic lens our mental health is not just a malady of the mind of our entire being - so we need to support the mind, the body, and the spirit.
In this webinar Vasant Lad, MASc, BAMS, Founder and Director of the Ayurvedic Institute, will offer an Introduction to the psycho-neurological perspective of mind, body, and consciousness as framed by Ayurveda.
Vasant Lad will provide an understanding of the basic anatomy and physiology of the human brain, discussing the myriad factors that can affect our neuro/psycho/physiological balance.
By exploring these intersections in our being we can come to appreciate how the Self is like any other natural system, and when one aspect is out of balance it can affect the status quo - and by supporting our entire system we can learn to support personal healing and return to harmony.
This webinar is ideal for any of us who are looking to support ourselves or members of our families and communities who are struggling with a mental health diagnosis. This webinar is also a wonderful opportunity for those interested in exploring the Ayurvedic approach to mental health, to augment their own professional knowledge and learning.
All our webinars offer ample time at close for a live Q&A with Vasant Lad.
We look forward to seeing you there!
TOPICS WE WILL COVER IN THIS IMMERSION...

Join Vasant Lad, MASc, BAMS, Founder and Director of the Ayurvedic Institute, as he explores:
The basic anatomy and physiology of the human brain.

Factors that can affect our neuro/psycho/physiological balance.

How we are affected when one aspect of our being is out of balance and how we can learn to support our own healing and return to our harmony.

The Vedic layers of consciousness from the external senses, to manas (mind), buddhi (intellect) through the "I" into the soul.
LIVE ZOOM WITH REPLAY ACCESS

Live Questions and Answer
Get answers to your questions during our live session. Vasant Lad will answer questions directy and our team of expereinced Certified Ayurvedic Practitioners will be monitoring the chat thread.

Live Session
Join us in live zoom webinar to deepen your experience. Its a greate opportunity to participate with like minded learners in our 2-way video stream.
Replays and Handouts

Please note that all LIVE sessions are recorded and you will be given access to your own AyurLearn portal where you can access all the recordings and supporting materials whenever you like.
INSIGHTS INTO MENTAL HEALTH THROUGH AN AYURVEDIC LENS

AYURVEDIC BREAKDOWN OF THE MIND

you are exploring this aspect of your own life, and want to and

want to and understand how to support your own mental health through an Ayurvedic perspective.

you are

supporting someone in your home, family, or community on their journey

- whether this is in a personal or professional capacity.

you are an

Ayurvedic Practitioner

and would like to deepen your offering and serve your clients at a deeper level.
Ayurvedic Visionary & Master

VASANT LAD BAMS & MASc
As the founder and director of The Ayurvedic Institute, Vasant Lad has worked tirelessly for the last 40 years to bring the deep insights and transformative power of Ayurveda to the West. His passion for healing has garnered him respect throughout the world, and he is considered the premiere authority on Ayurveda outside of India. His webinars offer the essence of decades of teaching and clinical practice, providing you with both inspiring theory and rigorous practical application while weaving in his personal spiritual insights
AYURVEDA AND MENTAL HEALTH WEBINAR 1 of 3

MIND, BODY, AND CONSCIOUSNESS: AN AYURVEDIC LENS

3-hour webinar with Vasant Lad (includes at short tea break).


March 25, 2022 from 10am - 1pm.

Live Session replay access for 6 months following the webinar.

White board drawings and additional resources will be available in the learning portal.

This is part 1 in a 3 part series. Each part can stand on its own, or take the entire series.
Still not sure? Reach out to our care team with your questions. Email us at info@liveayurprana.com
Frequently Asked Questions

What is an AyurPrana WeBINAR?

Our webinars deliver a virtual experience aimed at fostering transformation. We offer live content from our esteemed and captivating speakers, practitioners, and teachers straight to you! We want as many people as possible to have access to this life-changing content. We make the content easily available for you, whether you are in the comfort of your home, at your favorite coffee shop, or on the beach.
Can I ask the instructor questions during the WEBINAR?

Yes! The live component of any class is interactive. We have a state-of-the-art setup for the speaker to have a life-size view of the audience, as if you are sitting together. There will be designated opportunities to ask questions you have related to the content.

What if I have no background in medicine or Ayurveda? Do I need any background to understand the content in the WEbinar?

Our webinars are intentionally accessible for anyone - even those relatively new to Ayurveda. This particular webinar will be best enjoyed by someone with at least an introductory background in the science of Ayurveda. The speaker may become more technical, but we always bring it back to the basics.

How will I view the session?

For live sessions, we will utilize the Zoom platform. You will receive clear instructions on how to join. All you need is good internet access; a laptop, tablet, or phone with video and audio capabilities; and a fresh and open mind!
Recorded classes or the live replays will be accessed through the AyurLearn Portal. Instructions to access your AyurLearn Portal will be emailed to you shortly after purchase.
What if I can't join the during the live broadcast? Can I watch the sessions later?
Absolutely. You will have full access to the recorded sessions for at least 6 months after the live broadcast.
What is your refund and cancellation policy?

Immersions may be canceled up to 72 hours prior to the start date of the session. Please contact info@liveayurprana.com to submit a request for cancellation.

What if I am having technical problems during the live webinar?

You can reach us immediately by utilizing the chat feature in Zoom or emailing info@liveayurprana.com . We will be continuously checking these so that we can respond to you promptly.

Got questions? We'D love to get you answers!
Contact us at info@liveayurprana.com