RECORDED IMMERSIVE COURSE
Nourished Self
Ayurvedic Nutrition for Self Healing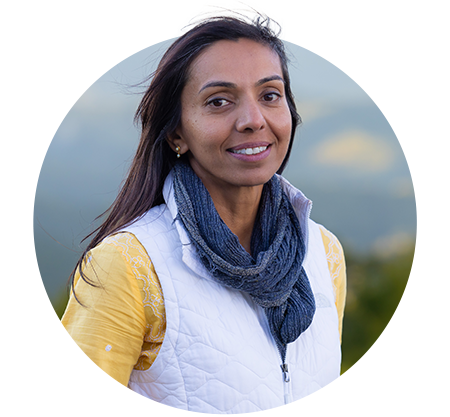 Sneha Raichada, MPT, CAP, E-RYT-200
RECORDED IMMERSIVE COURSE
Nourished Self -

Ayurvedic Nutrition for Self Healing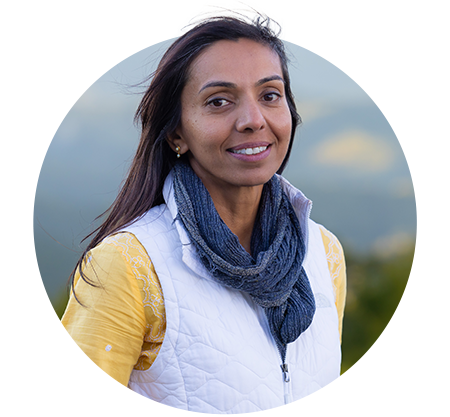 Sneha Raichada, MPT, CAP, E-RYT-200
Learn nutritional Ayuvedic insights and bring this knowledge into your kitchen as we make delicious meals together!
This study-on-demand course is designed to introduce you to the basics of Ayurvedic cooking and nutrition - with practical recipes and suggestions that can bring this transformative knowledge to your table in delicious ways! We will explore the concepts of the 6 tastes, coming to understand our digestive fire (Agni), the toxins (Āma) that build up in our system as a result of what we ingest, and how the qualities of our food can affect our body, our mind, and our spirit. We will also establish why nutrition is the foundational pillar in our 7 Pillar Wellness Formula and how important it is to our overall experience of life.
By the end of this course you will be able to use the insights of Ayurveda in your kitchen, to select the foods and cooking methods that best support digestive health and optimize your energy levels. You will also learn how to balance common concerns such as bloating, gas, indigestion, and tiredness after eating.
Come meet Sneha Raichada, AyurPrana Founder and Dean of Education at the Ayurvedic Institute, in this beginner-friendly course and develop a deeper connection with your food - so that you can support healing in yourself, your family, and wider community with this ancient and proactive knowledge.
Topics we will cover in this course
Join Sneha Raichada, MPT, CAP, E-RYT-200, AyurPrana Founder and Dean of Education at The Ayurvedic Institute, as she explores practical nutrition from an Ayurvedic perspective - with particular focus on how, what, and when we eat can impact our overall health and wellness. Through this lens we will look at foundational Ayurvedic principles - such as our doshas, understanding our digestive fire (agni), the 6 tastes of Ayurveda, how we build up toxins (ama) and how nutrition can nourish us in mind, body, and spirit.
In this course Sneha will introduce you to the basics of Ayurvedic cooking and nutrition - with practical recipes and suggestions that can bring this transformative knowledge to your table in delicious ways!
Here are the topics this course will cover:
Introducing the 7 Pillar Wellness Formula and exploring why nutrition is Pillar 1

How Ayurveda defines health and nutrition

Understanding

agni

and how to work toward optimal digestion

How we create and eliminate toxins (

ama

) through what we eat

Eating for your particular constitution (

dosha

) and eating with the season

The concept of

prana

(our life force) and how it relates to food

Understanding the gunas and how they play out in our diet

How food and nutrition can impact our mood and emotions

Understanding cravings from an Ayurvedic perspective

The 6 tastes of the tongue and how this helps us feel satiated

How to modify your meals and diet to better support you year round
Here's a breakdown on how these topics will be addressed:
Understanding the relationship between our emotions and our digestion

Introduction to the seasons by dosha and why this matters

Begin reading your tongue to know the state of Ama & Agni

An overview of health according to Ayurveda
Gain an understanding of the Vata dosha

Introduction to foods that can cause imbalances in the Vata dosha

Begin working to balance our Vata dosha with key principles and eating/cooking tips
Exploring the Pitta dosha

Examining the foods that can cause imbalances in the Pitta dosha

Begin working to balance our Vata dosha with key principles and eating/cooking tips
Learning about the Kapha dosha

Exploring the foods that can cause imbalances in the Kapha dosha

How to help balance our Kapha dosha with key principles and eating/cooking tips
A Strong Foundation - Nutrition is the 1st Pillar
After years of working as Ayurvedic professionals and after investing in our own health and wellness, we developed the 7 Pillars as a practical approach to helping people get started incorporating Ayurveda into their daily routine, helping to form habits that serve us.
Each of the 7 pillars are rooted in Ayurvedic concepts to help create a daily lifestyle routine (dinacharya) that ultimately supports and maintains wellness in any body.
This formula is simple. Give a few minutes per day to each of the 7 Pillars, and through these moments of attention and intention, we nourish all aspects of our being — promoting our own health and well-being!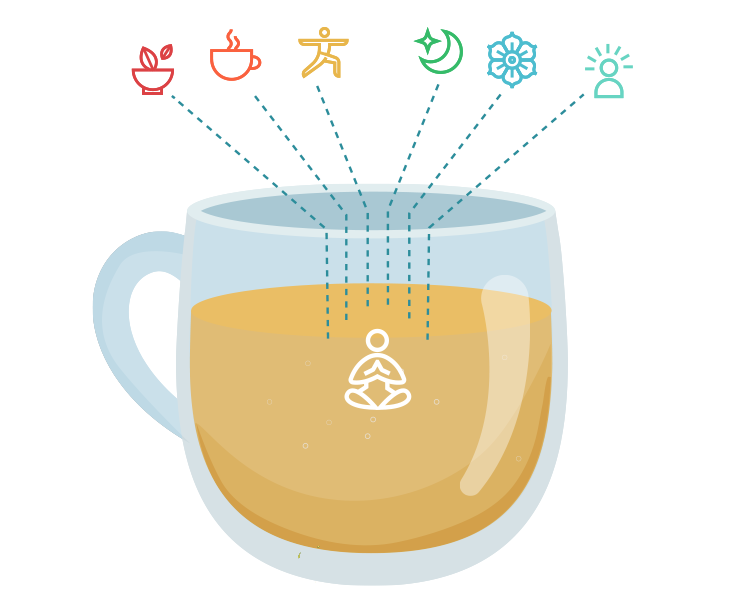 This immersive course is a deep dive into the first and primary pillar of nutrition, it's from here with a strong base that we are able to invest in the other 6 Pillars.
Want to learn more about the 7 Pillars?
Visit our online Wellness Clinic for more information!
How we fuel our body & transform this fuel into nourishment
Natural daily and seasonal ways to eliminate toxins from our body
Physical activity to encourage the movement of Prana, our life force
Support daily healing, rejuvenation and recuperation through sleep
PILLAR 5: CONNECTION
The importance of inner and outer relationships
Feeding your aspirational being
Healing our soul and realizing our Oneness with all that is

You love cooking and working with food - and now want to learn about the Ayurvedic approach to nutrition so that you can bring these insights into your own kitchen, so that you can promote diets in your home that support better health and wellbeing for all members of your household.

You are a nutritionist, dietician, or chef/cook wanting to augment your knowledge by exploring the Ayurvedic approach to cooking and nutrition - with insights, practices, and recipes that you can bring into your practice for the benefit of your clients and patients.

Are an Ayurvedic practitioner or student of Ayurveda wanting to review the basics of nutrition while obtaining simple tools and recipes to assist your clients with their common digestive concerns and simple suggestions on how to each for Doshas and the seasons.
This offering

has been designed with everyone in mind.
You do not need to be a serious cook or have extensive knowledge in Ayurveda to benefit from this course. We will be providing recipes for you to experiment with outside of class time, so no kitchen utensils or food items will be needed during the class.
Ahara - a time tested approach to nutrition and digestion
In Sanskrit, Ahara means nutrition. The ancient Ayurvedic texts state that the right food for an individual is wholesome and digestible, not too much or too little, consumed at the right time with enough time in between meals, in the right season and consumed with awareness.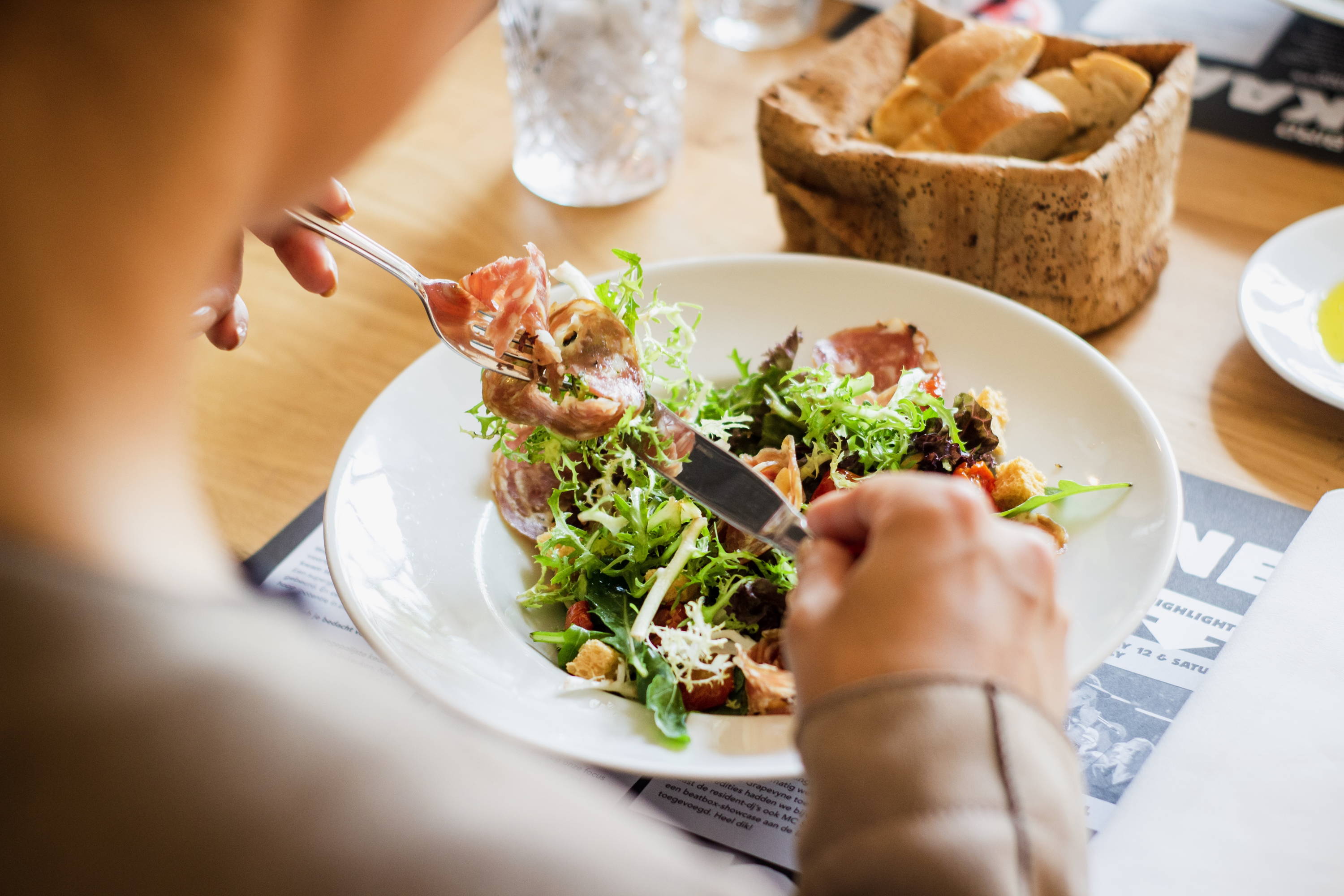 Eating ourselves well
Ayurveda places a huge emphasis on the connection between diet and wellbeing - for more than 5000 years, people have been using the healing system of Ayurveda to understand that we are not only what we eat, but what we are able to digest. As students and practitioners we can learn and practice certain principles in order to better nourish ourselves and in so doing provide ourselves with what we need to heal and live into the best expression of ourselves.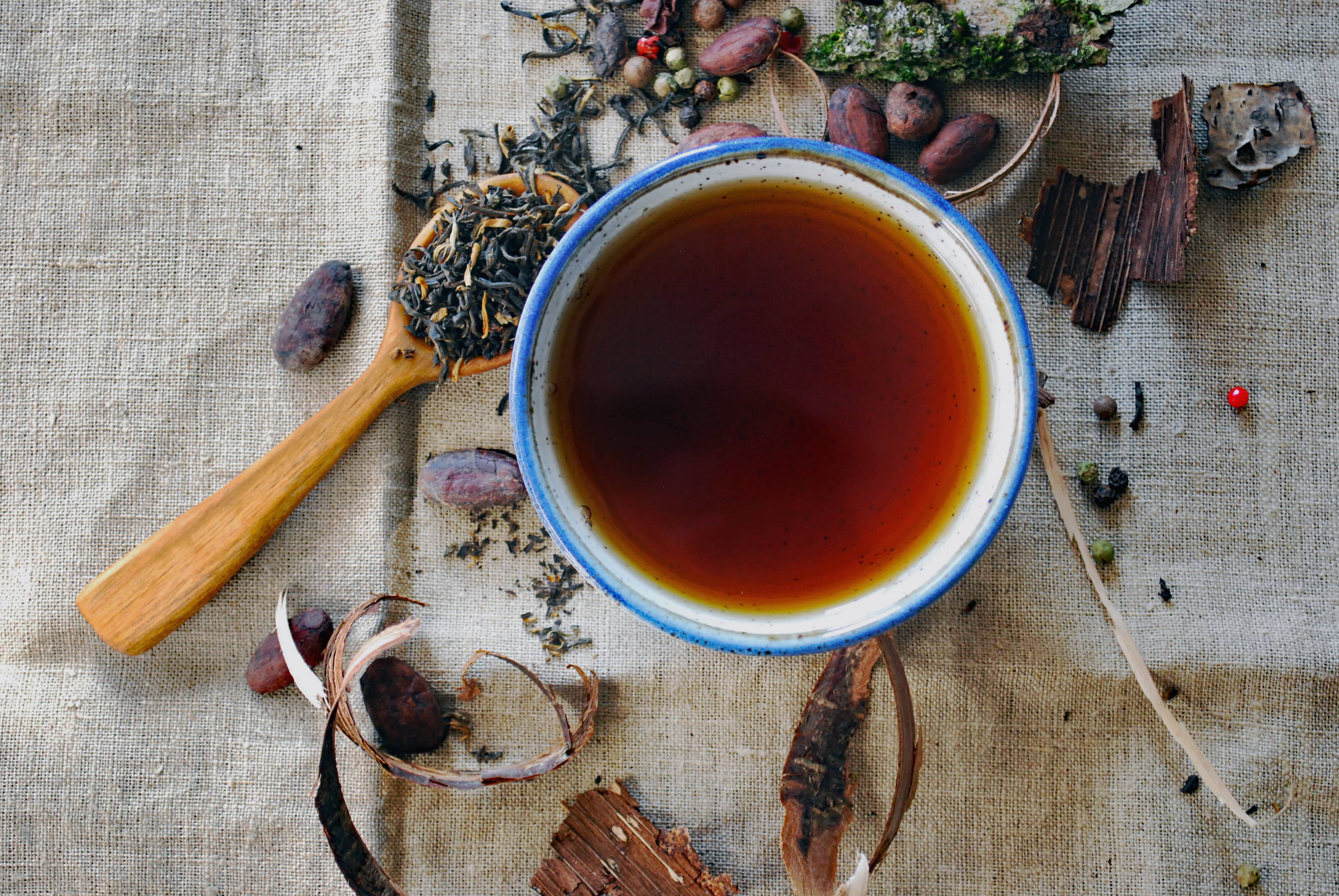 The foundational Pillar
Ayurveda provides a tried and tested holistic system that can help us to deeply understand ourselves and the world around us. This awareness of the principles of nutrition is vital to all aspects of health and wellness. As the foundational pillar, it supports and sets the tone for the health of the body's cleansing, movement and sleep functions as well as the higher realms of connectedness, inspiration and bliss.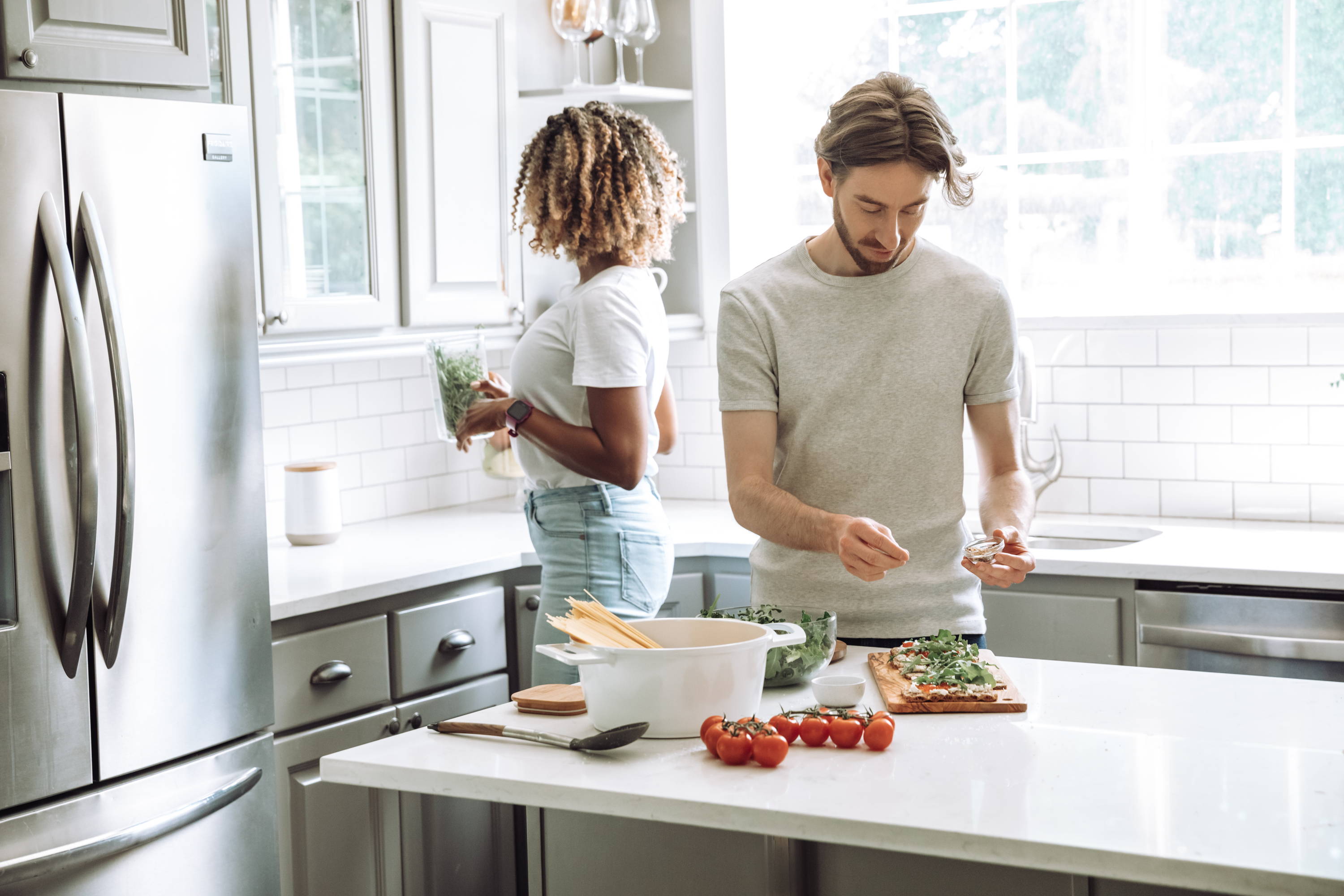 Personal Eating
One of the most elegant aspects of the ancient healing and wellness system of Ayurveda is the incredible devotion to the individual. This immersive and practical course will offer insights into your particular constitution (prakruti) with simple recipes and ingredient suggestions that support you in eating for your doshas and living into the season of the year - this allows us to use our meals to help us rediscover balance and live into our optimal self.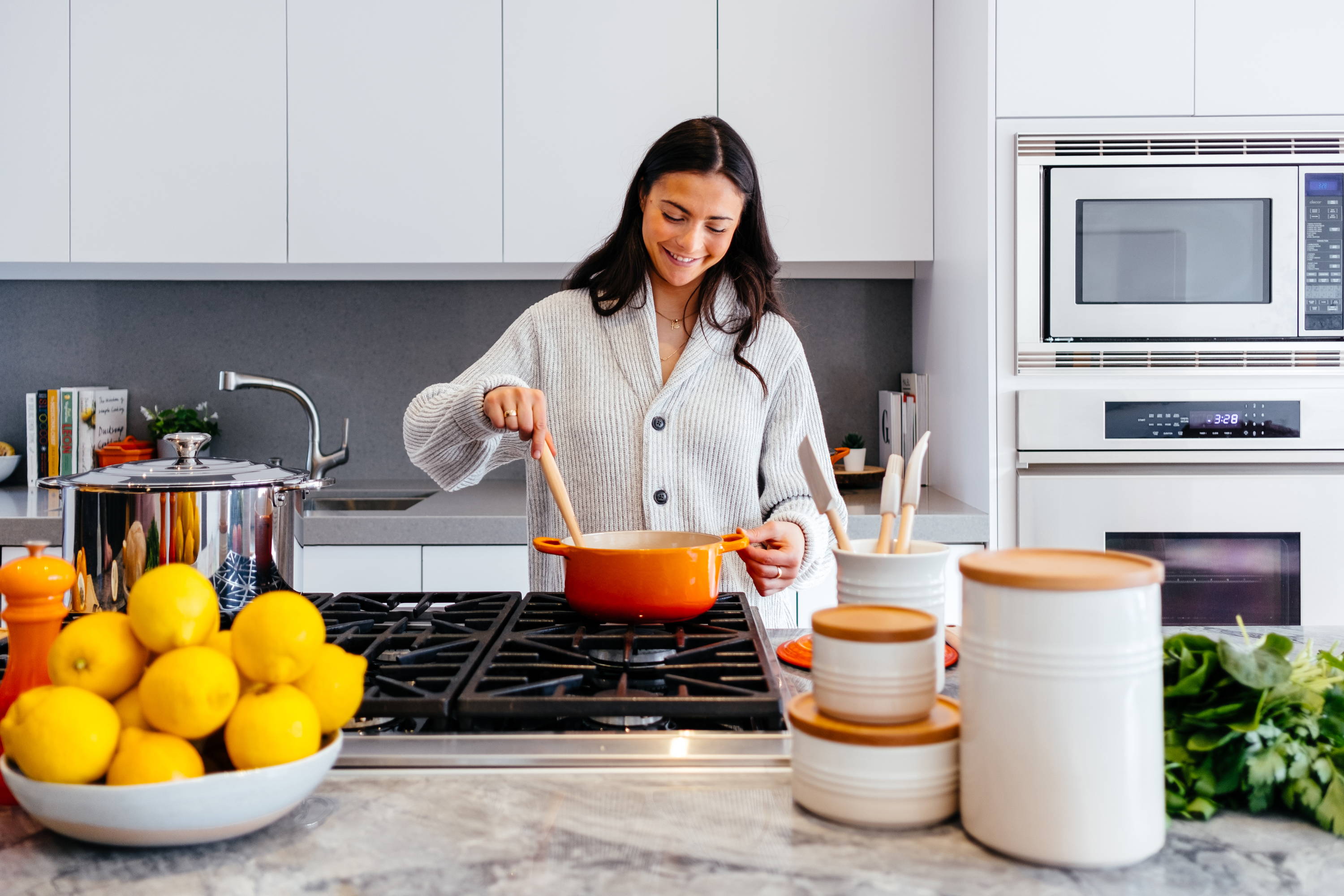 Small adaptations with big results
Don't worry, we aren't going to ask you to empty your pantry and teach you a whole new system of cooking, but rather offer basic insights that can translate into simple additions and adaptations to your meals! Whether you eat a Mediterranean diet, or are going keto, this course will give you beneficial knowledge on how to adapt meals to work better for your body.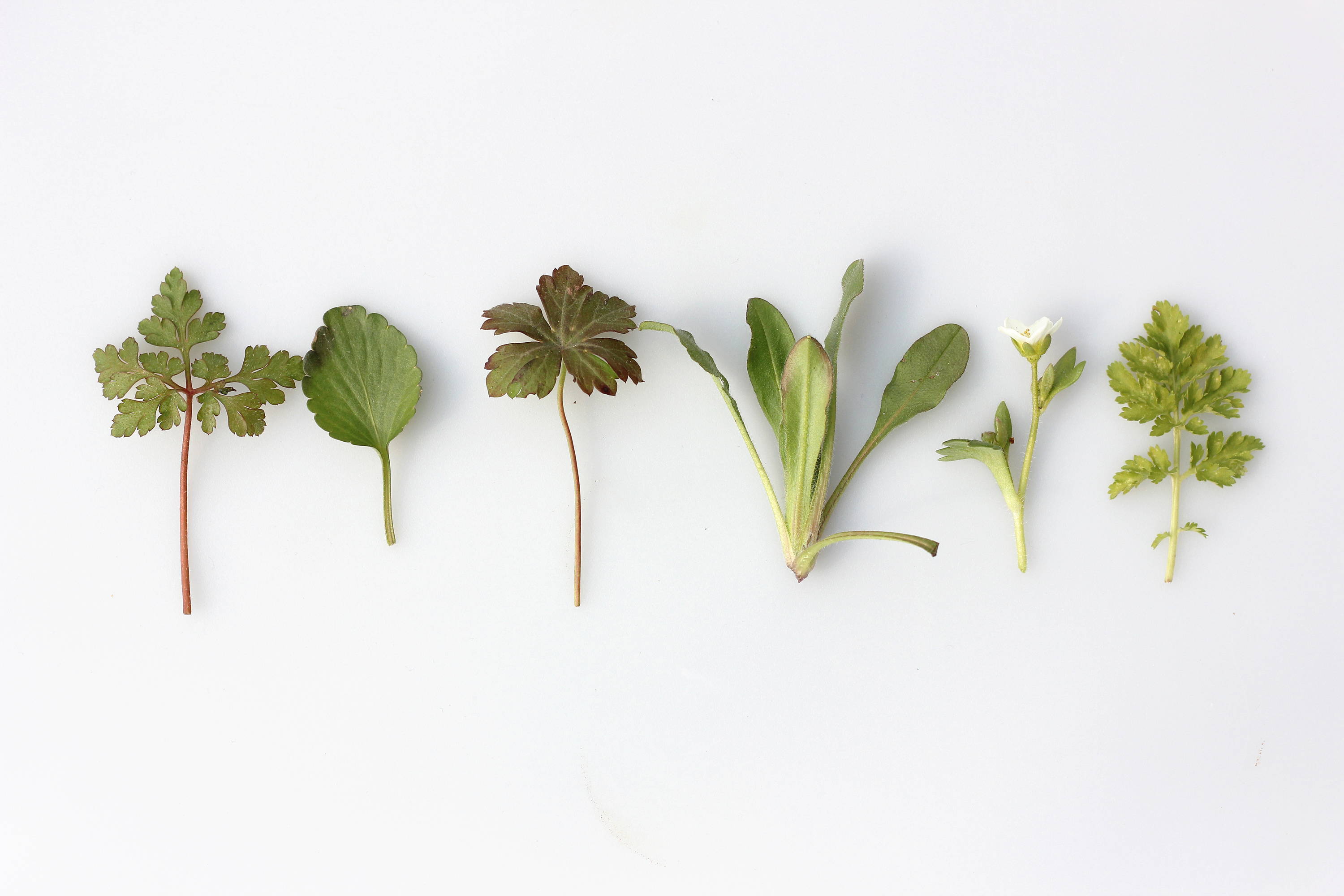 Good food is good medicine
Good food and nutrition are integral to our body's natural healing processes and provide daily opportunities for self-care. This is why we intuitively choose to help our bodies get healthy by changing our diet - and often it's our cravings that seem to undo us in these endeavors. This course will lend understanding to the craving process within our bodies so that you can, over time, come to eat in a way that allows you to enjoy your food, find nourishment, and present as your best self in the world!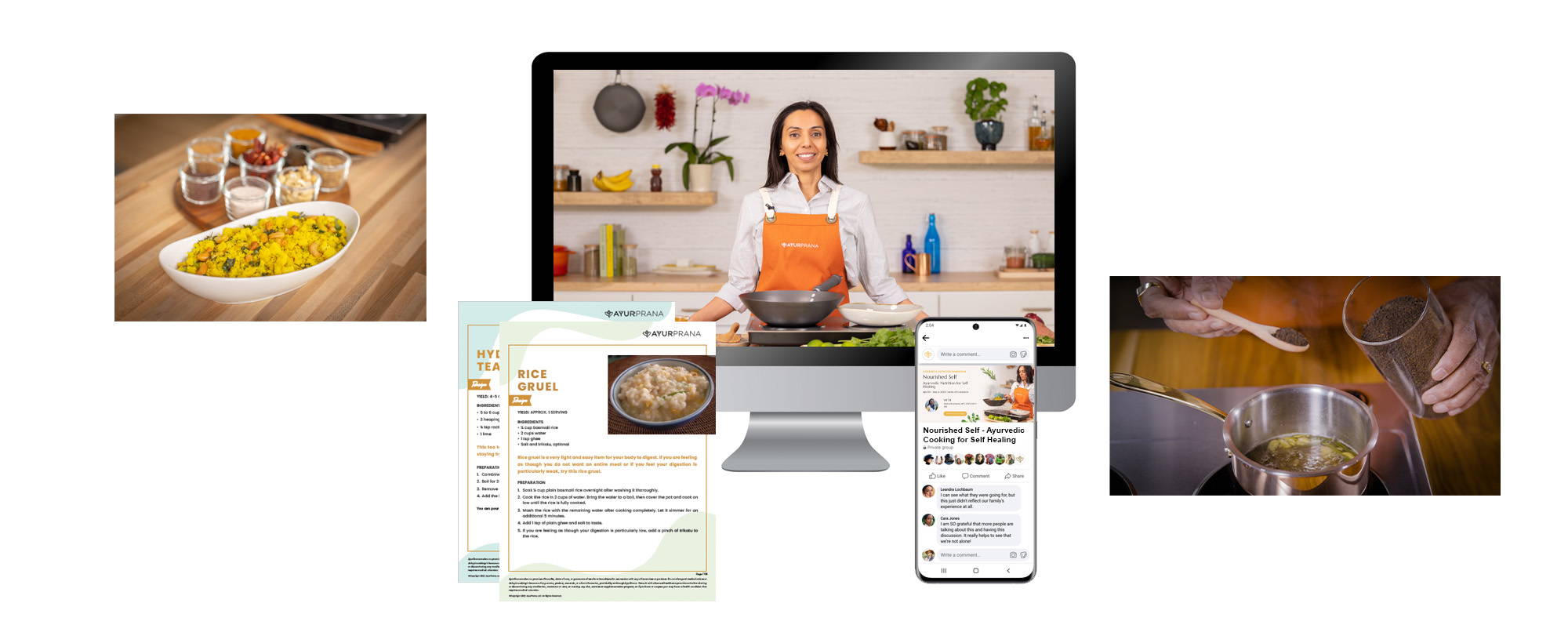 Learn with Sneha Raichada through on-demand recorded sessions and a dedicated community forum monitored by Ayurvedic Practitioners!
Please note that all the sessions for this course are recorded by our incredibly talented production team and you will be given access to your own AyurLearn portal where you can view all the lessons and any supporting materials Sneha provides whenever you like.
Recipes and Guidance
You will be given some simple and wholesome recipes that can be easily incorporated into your routine - with modifications and dietary considerations included!
There will be a private community group for this course where you can join discussions, post questions, and get to know our Ayurvedic Practitioners and fellow students a little better!
We will be using our private group to post recipes, suggestions, and cooking tips!
Get answers to your questions through our community portal or during any of our live community Q&A sessions where you can post your questions - you can also reach out to our care team at care@liveayurprana.com for support at any time.
Nourished Self: Ayurvedic Nutrition for Self Healing
Nourished Self: Ayurvedic Nutrition for Self Healing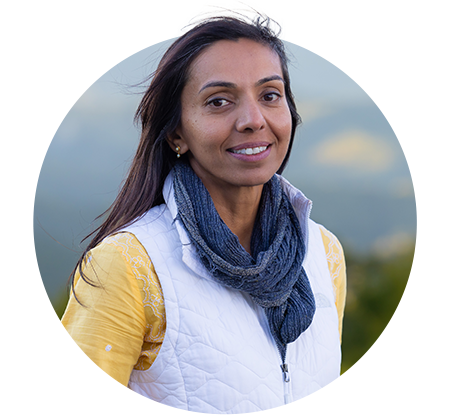 Dean of Education, Ayurvedic Instittue

Sneha Raichada, MPT, CAP, E-RYT-200

Prior to becoming the Dean of Education at the Ayurvedic Institute, Sneha had a remarkable journey as an executive of a thriving hospitality business. Luckily for us, Sneha now focuses all her energy on developing the next generation of Ayurvedic Practitioners and providing thoughtful care for her clients. While practicing as an Ayurvedic Practitioner, Sneha combines her early experience as a Physical Therapist with extensive classroom and clinical study under Vasant Lad in the US and India, Yoga Teacher Certification, and Reiki III Certification. When she has a free moment, Sneha is most often found experimenting with fresh ingredients, applying the deep wisdom of Ayurveda to all her delectable creations.
Frequently Asked Questions

What is an AyurPrana Study-On-Demand Course?

Our study-on-demand courses deliver a virtual experience aimed at fostering transformation. We offer highly-produced recorded content from our esteemed and captivating speakers, practitioners, and teachers - that allows you to study at your own pace! We support your learning through dedicated online community forums and live Q&As where you can get quick responses to your questions. We make the content easily available for you, so you can keep learning whether you are in the comfort of your home, at your favorite coffee shop, or on the beach.
Can I ask the instructor questions?
Yes! We offer access to 8 weekly live Q&A sessions - where you can submit questions ahead of time and receive a considered response from our instructors and supporting Ayurvedic Practitioners. We also have a dedicated online community forum where you can ask additional questions related to the content of the course, learn from others, and get to know your immersion friends! You can also reach out to our Care Team at anytime if you need additional support - care@liveayurprana.com
Do I need to get any ingredients or special utensils for the course?
No, we will not be requiring participants to 'cook along' with our instructor. Recipes covered in class will however be provided and we encourage all of our participants to try them outside of class time. All of our recipes use accessible ingredients and it should be possible to recreate them with what you already have in your kitchen!
What if I have no background in medicine or Ayurveda? Will I still be able to understand the content?
Our immersions are intentionally accessible for anyone - even those relatively new to Ayurveda. This offering in particular has been designed with everyone in mind. You do not need to be a serious cook or have extensive knowledge in Ayurveda to benefit from this immersion.
How will I view the session?
For live sessions, a link to the live meeting will be posted in your learning portal. You will receive clear instructions on how to join prior to the live session along with email reminders to join. All you need is good internet access; a laptop, tablet, or phone with video and audio capabilities; and a fresh and open mind!
Recorded classes or the live replays will be accessed through the AyurLearn Portal. Instructions to access your AyurLearn Portal will be emailed to you shortly after purchase.
What if I am having technical problems?
You can reach us by emailing care@liveayurprana.com or give us a call at (505)204-7026. Our care team is online Monday through Friday from 9am - 5pm ET.
What is your cancellation policy?
Programs with live content may be canceled up to 72 hours prior to the start date of the program. Pre-recorded programs are non-refundable. Please contact care@liveayurprana.com to submit a request for cancellation.
Got questions? We have answers!
Contact us at care@liveayurprana.com or utilize the chat feature on www.liveayurprana.com and we'd be happy to help!